How to use the posters
Some of our new posters use photos, some use cartoons. You may find the cartoons print better if you don't have a high-end printer. For best results, ask your local printer to print from the PDFs.
Some of the posters have a blank space for you to add your own text. There are two ways to use the blank posters:
Open the PDF in Adobe Reader. Click on the blank space and type in text. We have set the fonts for you. Then print them with your text included.
Or print them blank and then write or overprint your text.
Can also be used as table-talkers or toilet-talkers. (Right at the bottom, there are also two targeted at women: talk to the men in your life.)
There are also cartoons and logos and graphics for online use such as in email newsletters and social media.
How to download
You can download the posters as A3 size PDFs by clicking on the image below. You can print the posters at A3, A4 or even smaller.
---
Running
The text is:
How do you beat stress?
Running helps. So does any sort of exercise. 
Then there's singing, dancing, laughing, music, painting, writing, volunteering, helping a mate, learning something new, meditating and getting a good night's sleep. 
But one thing helps more than anything.
Let's talk.
The text posters all use variations on this theme.
---
Helping a mate
---
Singing
---
Singing - colour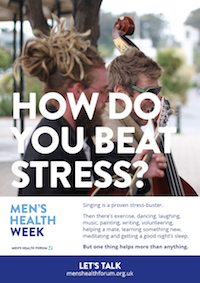 ---
Running - black and white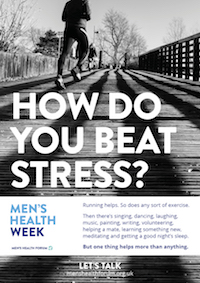 ---
Running - cartoon
– see the cartoon in more detail
---
Singing - cartoon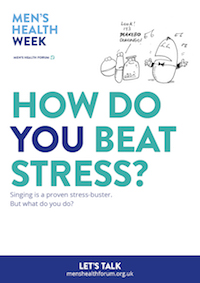 – see the cartoon in more detail
---
Eating more healthily - cartoon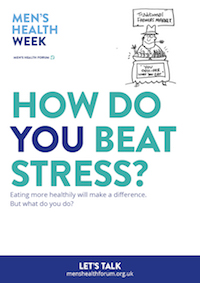 – see the cartoon in more detail
---
Finding time for your mates - cartoon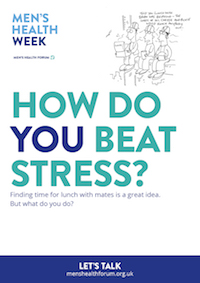 – see the cartoon in more detail
---
A good night's sleep - cartoon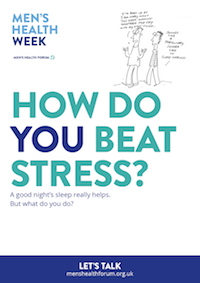 – see the cartoon in more detail
---
Dancing - cartoon
​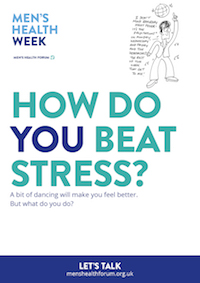 – see the cartoon in more detail
---
Work - cartoon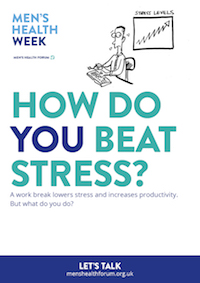 – see the cartoon in more detail
---
Poster for the Forum's new Beat Stress service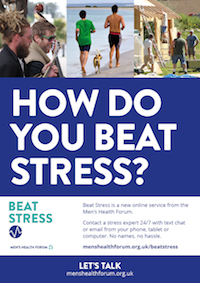 ---
Two posters targeting women