The Men's Health Forum leads Men's Health Week in England and Wales. You can get involved. 
Sign up for Men's Health Week news and information on taking part and access to the Men's Health Week resource pack when as soon as it is available.
Healthy Living for Men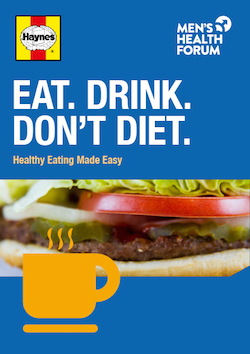 Men's Health Week 2015 focuses on healthy living challenging men to:
Look after their relationships and wellbeing

Don't smoke

Drink sensibly

Be active

Watch their weight

Turn up to their NHS Health Check
Why this topic?
Men are less likely to lead a healthy lifestyle. They are more likely to smoke, drink alcohol to hazardous levels and be overweight or obese. These lifestyles can lead into serious diseases such as cancer, heart diseases and stokes, the risk of which can be reduced by leading a healthy lifestyle. Our Men's Health Manifesto challenges men and health providers on these issues.
Sign up for Men's Health Week 2015 news and information. If you already receive our newsletter this will update your subscription for extra info on Men's Health Week 2015. 
Get involved
Anyone can take part in Men's Health Week, especially local organisations, public health teams, NHS and employers. Sign up for Men's Health Week 2015 news and information and we will help you get involved in the week. We will send you extra newsletters with updates on the week and details of how to get resources as soon as they are available.
More information: