Men's Health Week 2017 ran from 12-18 June.
In 2017, it was all about belly fat. Why? Because it's the type of fat that's bad for your health and men are more likely to have it. 
Belly fat is a problem because it lurks not just beneath the surface but also gets down deep and surrounds your vital organs. Regardless of your overall weight, a large amount of belly fat increases your risk of:
Cardiovascular disease
Insulin resistance and type 2 diabetes
Colorectal cancer
Sleep apnea
Premature death from any cause
High blood pressure
So, men need to get those tape measures out. If you have a waist measurement over 37 inches (94cm), you are at increased risk of diabetes, heart disease, cancer, stroke and erection problems. If it's over 40 inches (102cm), you're ar a considerably increased risk of all these. The measurement is not the same as your trouser size. Measure your stomach at the belly button. 
Move more, eat well, watch the booze.
Men's Health Week will be a fat lot of good without your participation. It's still not too late to tell us your belly good suggestions.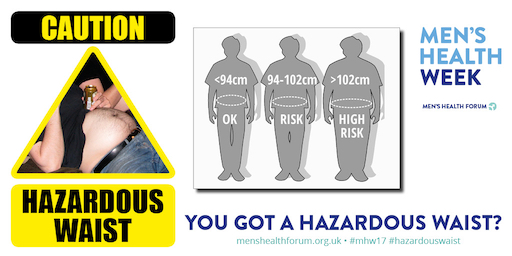 Image credits: Peter Hellberg (CC BY-SA), Maria Eklind (CC BY-SA) and Tony Alter (CC BY) who were all kind enough to put their images in the Creative Commons. Cartoons by John Byrne.