Summary of Conclusions
1. The majority of local authorities are not addressing men's health. Only 27 out of 147 (18%) had a majority of their measures in their JSNA local and gendered, that is broken down to show figures for men and for women in their area. 
2. Worryingly, areas with poor male life expectancy are not necessarily prioritising men's health, despite the numbers of men in their area who are dying young.
3. Local authorities are failing to recognise the importance of men's mental health. Mental illness and mental health diagnosis rates were included by gender in just a handful of JSNAs yet 78% of people who take their own lives are male.
 4.Key lifestyle areas are regularly being overlooked. Only alcohol is included as a gendered measure in the majority of the JSNAs. Too often diet, smoking and sexual health are  neglected.
5. Figures on disease prevalence and related hospital admissions which affect men considerably more, such as cancer and coronary heart disease are not gendered leaving key gaps in the understanding of survival and the burden of disease.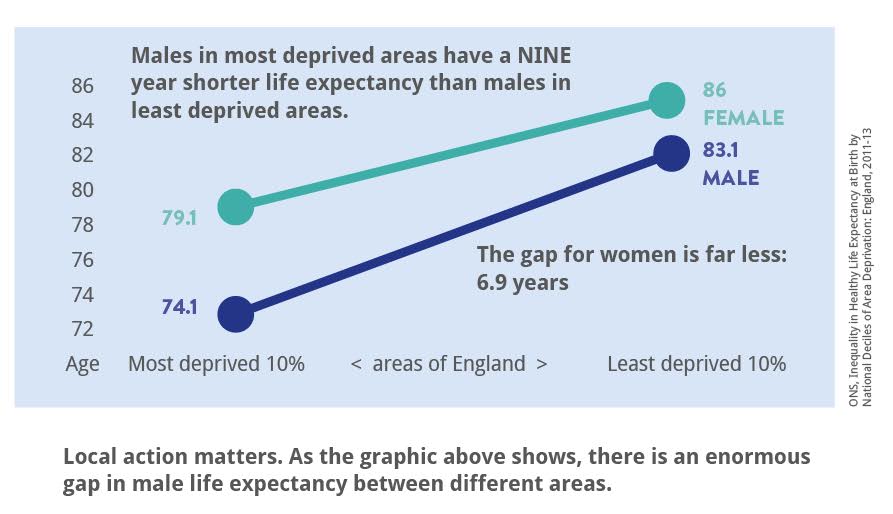 Main Recommendations
Local authorities and Clinical Commissioning Groups (CCGs) should implement change by ensuring that available gender-disaggregated data is used in their JSNAs. This will allow Health and Wellbeing Boards to fully address gender-specific health inequalities.
NHS England and Public Health England (PHE) should support areas with low male life expectancies and provide extra support to ensure better health analysis.
Local authorities should invest in research to better understand male lifestyle behaviour and men's mental health in their areas.
NHS England and PHE should make it a requirement for local authorities to use gendered data and make that data more easily accessible. They should also create a template JSNA for local authorities to follow. This will improve the quality of JSNAs and allow comparison between areas.
Use the examples of good practice to improve JSNAs. The Bolton Metropolitan Borough Council JSNA contained 26 gendered measures. In the absence of any national templates, the council devised and conducted its own health and wellbeing survey to focus on prevention in male health.