---
Men's Health Week 2020: Men and Covid-19
#menshealthweek - men and Covid-19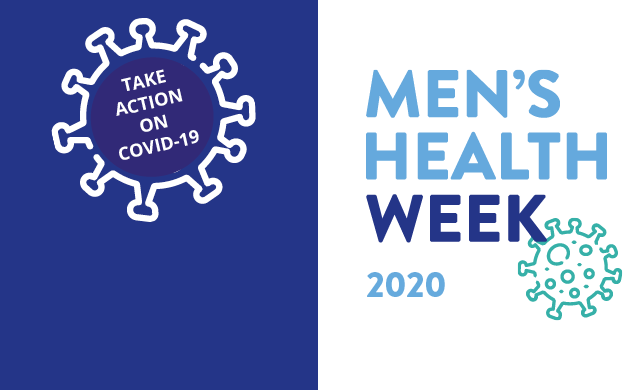 You'll have surely guessed the theme for Men's Health Week 2020. It was 'Take Action on Covid-19'. The week ran from from 15-21 June. All the links and downloads are still available via the links above.
We'll be looking at what we can all do to prevent the virus doing more damage.
For men
take action to avoid spreading the virus
take action to get the best out of lockdown and the 'new normal'
take action to beat 'underlying conditions'.
For employers
take action to understand the virus
take action on social distancing
take action to make workplaces safe.
(and sign up for our online toolbox talk)
For government
take action to protect everyone by recognising, analysing, researching (and publishing) how the virus affects different groups of people in different ways
take action to track, trace, isolate and support - with a targeted support for different needs
take action to support organisations working with men.
(including our webinar on Covid-19 and Men)
All the links you need for 2020
If you'd like to help support the week - and help us make it bigger and better, please donate now towards the cost.  We're keen to develop more materials and do more to raise awareness of the week and donations towards the week really help with this.
Free materials from previous weeks are available now from the Men's Health Forum online shop.
Men's Health Week 2020 logo based on an icon from Freepix - thanks.
Want to be on the list for the next Men's Health Week? Please sign up.
---
The Men's Health Forum need your support
It's tough for men to ask for help but if you don't ask when you need it, things generally only get worse. Especially during a major pandemic like Covid-19. So we're asking.
Men appear more likely to get Covid-19 and far, far more likely to die from it. The Men's Health Forum are working hard pushing for more action on this from government, from health professionals and from all of us. Why are men more affected and what can we do about it? We need the data. We need the research. We need the action. Currently we're the only UK charity doing this - please help us.
Here's our fund-raising page - please chip in if you can.