---
Support the Forum in the 2.6 Challenge
Support the Men's Health Forum in The 2.6 Challenge.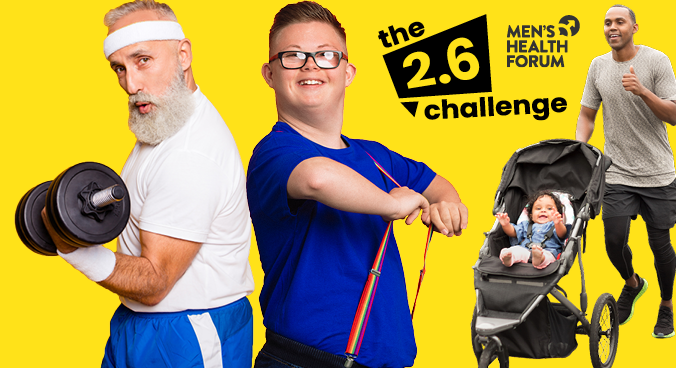 The 2.6 Challenge will launch on Sunday 26 April 2020 – the day that should have been the date of the 40th London Marathon, the world's biggest one-day annual fundraising event. Trouble is it's not on because of Covid-19. It's estimated that the pandemic will cost the UK's charities billions following the cancellation of the marathon and thousands of other events.
So the organisers have come up with a new idea: the 2.6 Challenge. You can fundraise or get yourself sponsored to do any activity at all of your choice based around the numbers 2.6 or 26 and donate. The organisers reckon that if 2.6 million people raise £26 each that will replicate the £67m the London Marathon usually raises for UK charities.
Anyone can do the 2.6 Challenge
You could walk, run, hop or cycle 2.6 miles, juggle for 2.6 minutes (or 26 minutes!) or do an online workout with 26 friends for 26 minutes. You could try 26 skips followed by a 26 second break 26 times. It could be 26 laps of your garden or pushchair circuits of the park. It could be 26 minutes dancing, 26 pancake tosses, 26 games of Subbuteo, 2.6 cm off your waist, 26 consecutive days of whatever you fancy (so long as it's healthy!) The ideas and options are endless.
This is the perfect challenge for how we're living right now. The only rule of the 2.6 Challenge is that you must follow Government guidelines on exercise and social distancing. Most people are taking part from Sunday 26 April but you can do your activity whenever is most convenient for you.
There are many great charities. We'd like you to fundraise for the Forum because one man in five still dies before the age of 65. It doesn't have to be that way. Right now, men's health is particularly important: our video explains why (and yes, it's 26 seconds long!)
Five simple steps
There are just five simple steps to take (it's really annoying that there aren't 2.6 simple steps to take but you can't have everything):
Dream up your 2.6 challenge (if you need ideas, there are lots at twopointsixchallenge.co.uk)
Head to the Forum's 2.6 Challenge Just Giving page to donate £26 – or whatever you fancy – or to set up your own fundraising page
Ask all your friends and family to sponsor you and challenge them to do their own 2.6 Challenge
Complete your challenge
Share a photo or video of your challenge on social media with #TwoPointSixChallenge and, of course, @menshealthforum
Good luck, have fun and socially distance.
The Men's Health Forum need your support
It's tough for men to ask for help but if you don't ask when you need it, things generally only get worse. Especially during a major pandemic like Covid-19. So we're asking.
Men appear more likely to get Covid-19 and far, far more likely to die from it. The Men's Health Forum are working hard pushing for more action on this from government, from health professionals and from all of us. Why are men more affected and what can we do about it? We need the data. We need the research. We need the action. Currently we're the only UK charity doing this - please help us.
Here's our fund-raising page - please chip in if you can.