---
Worrying death statistics as we consider the return to work
Men in jobs that cannot be done from home are most likely to be killed by Covid-19.
That conclusion may seem obvious but as more and more people are being encouraged to return to work, it is important that the obvious is not forgotten.
The ONS examined the 2,494 deaths involving Covid-19 up to 20 April. Two-thirds of these were in men. For men overall, this gave a death rate per 100,000 of population of 9.9 (compared to 5.2 for women). But men in certain lines of work died at a far higher rate with men in the 'lowest skilled occupations' twice as likely to die.
Some occupations had even higher death rates per 100,000:
9.9 - men in general
19.8 - sales and retail assistants
21.4 - 'lowest skilled professions'
23.4 - social care workers
26.4 - bus and coach drivers
35.9 - chefs
36.4 - taxi-drivers and chauffeurs
45.7 - security guards
One thing these high-risk professions have in common is that the work cannot be done from home. In many cases, they require close contact with other people.
These are worrying statistics and show just how important it is that any return to work is safe. The ONS table below compares death rates across occupations. You can also share our tweet below.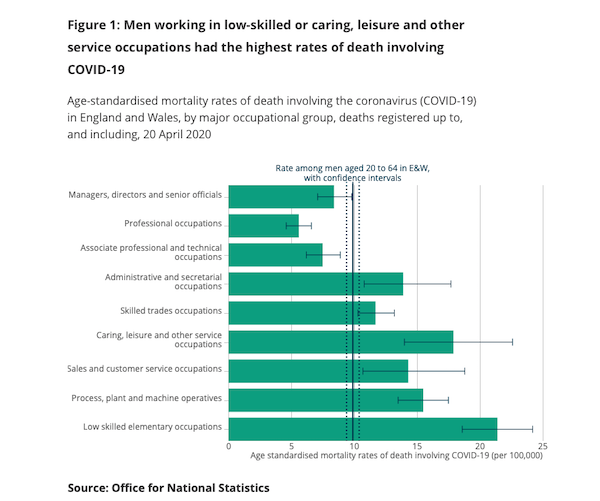 ​
Please share our tweet:
This new report from @ONS is devastating. Death rates for men higher overall & in some jobs e.g. security, driving (cabs and buses), construction hugely higher than those faced by other men & by women. But still no govt action taking sex & gender into a/c. https://t.co/NuRrUa5ICR

— Men's Health Forum (@MensHealthForum) May 11, 2020
The Men's Health Forum need your support
It's tough for men to ask for help but if you don't ask when you need it, things generally only get worse. Especially during a major pandemic like Covid-19. So we're asking.
Men appear more likely to get Covid-19 and far, far more likely to die from it. The Men's Health Forum are working hard pushing for more action on this from government, from health professionals and from all of us. Why are men more affected and what can we do about it? We need the data. We need the research. We need the action. Currently we're the only UK charity doing this - please help us.
Here's our fund-raising page - please chip in if you can.