---
The Covid-19 Creative Challenge
Can you come up with effective messaging to communicate the truth about covid-19 to men?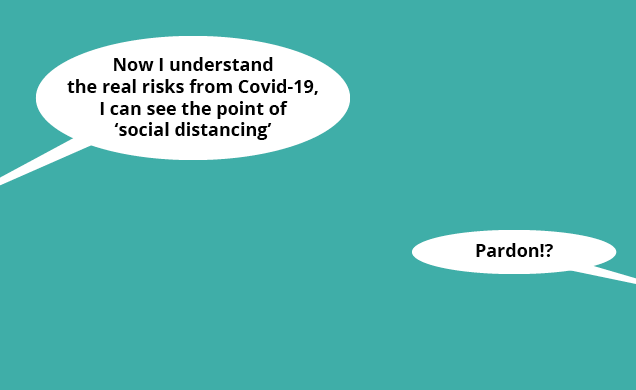 What is it with men? The latest gender data suggests that men are twice as likely to die of Covid-19 as women. Yet it also seems that we haven't a clue about how the virus works.
One man in four think it's 'just like the flu' (compared to just one woman in 10) and men are twice as likely as women to think it only affects older people or those with underlying health conditions. Both views are seriously mistaken. Men are also five times more likely to disbelieve the government's advice on staying home and generally wash their hands far less. What a mess.
So the Men's Health Forum has challenged the UK top advertising agencies and indeed everyone with a creative streak to come up with some Covid-19 messaging targeted specifically at men. It's the perfect challenge for anyone creative working from home…
Talk to men directly
Men's Health Forum CEO Martin Tod said:
the facts on Covid-19 are clearly not reaching as many men as we would like. That's not surprising to us. The official public health messages online and in the media are generic and don't talk to men directly despite the fact that being male is clearly a risk factor - just as being over 70 or being overweight or having underlying conditions are risk factors.
The Forum have been campaigning since the start of the epidemic for government to provide the daily data on Covid-19 broken down by gender and age. This is still not happening.
The Forum hope that some imaginative social media shares from the UK's top creatives will help to put gender on the agenda in the discussion of Covid-19 and, even more importantly, help men to understand what's going on with this virus and why social distancing matters. Let's talk.
Tweet your ideas to @menshealthforum
#covidchallenge4men
The full brief is below. To get the ball rolling, we had a go ourselves. (See our video after the brief.)
Covid-19 and men - the creative brief
The challenge: many men don't 'get' Covid-19. Men are far more likely to die of the virus than women (75% of ICU deaths) yet are also more likely to believe it is 'just like the flu' (25% men v 10% women) and are less likely follow social distancing guidelines or wash hands. This may be because some men believe that they personally are not at high risk of serious Covid-19 and do not understand why social distancing messaging applies to everyone not just those at higher risk.
The objective: that men change their behaviour so that fewer men catch or pass on Covid-19 - especially ones who are currently ignoring social distancing and handwashing guidelines.
Target audience: all men but particularly those who may believe they personally are at low risk (younger men).
Resources: all our Covid-19 content is here
Media outputs: anything shareable on social media - video, images, gifs, gags etc
The Men's Health Forum need your support
It's tough for men to ask for help but if you don't ask when you need it, things generally only get worse. Especially during a major pandemic like Covid-19. So we're asking.
Men appear more likely to get Covid-19 and far, far more likely to die from it. The Men's Health Forum are working hard pushing for more action on this from government, from health professionals and from all of us. Why are men more affected and what can we do about it? We need the data. We need the research. We need the action. Currently we're the only UK charity doing this - please help us.
Here's our fund-raising page - please chip in if you can.