---
Covid-19 Statistics: BAME
Links to stories on the increased risk of Covid-19 in BAME communities.
Black people are twice as likely to die from Covid-19 as white people. Even after factors like social deprivation are taken into account.
That's the offical conclusion of the Office for National Statistics, the ONS.
In her report An Avoidable Crisis, published in October 2020, Baroness Doreen Lawrence has called on the government to 'set out an urgent plan for tackling the disproportionate impact of Covid on Black, Asian and minority ethnic people this winter'. 
The risk of various ethnic groups is shown on the graphic below. Follow the links for all our stories on BAME communities and Covid-19.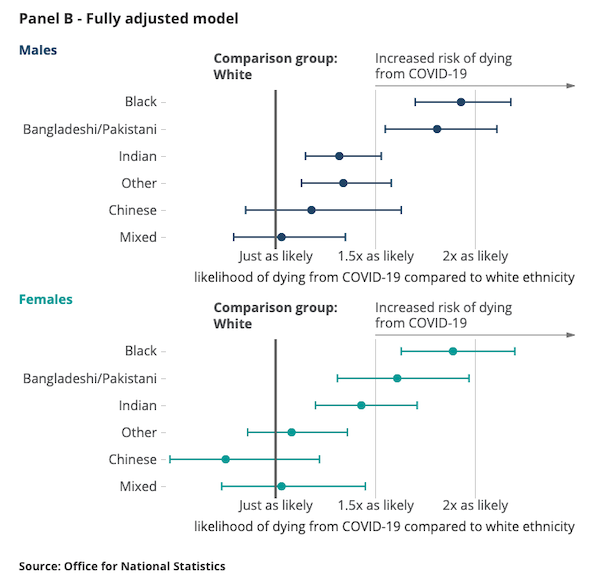 The Men's Health Forum need your support
It's tough for men to ask for help but if you don't ask when you need it, things generally only get worse. Especially during a major pandemic like Covid-19. So we're asking.
Men appear more likely to get Covid-19 and far, far more likely to die from it. The Men's Health Forum are working hard pushing for more action on this from government, from health professionals and from all of us. Why are men more affected and what can we do about it? We need the data. We need the research. We need the action. Currently we're the only UK charity doing this - please help us.
Here's our fund-raising page - please chip in if you can.