---
How to get back into cycling
Peter Mabe reports on the challenge of pedalling from Glasgow to Edinburgh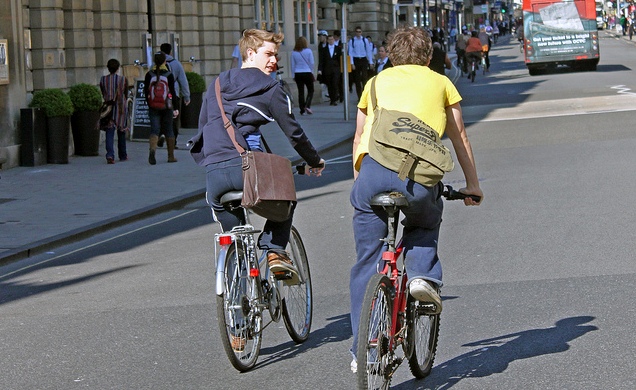 I started cycling many years ago, but never what you would call seriously. I've always looked upon it as a way to try and keep fit, something that is constantly on my mind as the 50's loom ominously ahead.
I've often looked at ways of getting fitter on malehealth, but have never favoured activities such as running or football, but the idea of some sort of challenge has always appealed.
A friend of mine mentioned a while ago, the Pedal for Scotland cycle run that he had done a couple of years back, then when it came round this year he suggested a few of us do it. There was my 'get fit' plus a challenge in one go. So five of us signed up for the Pedal for Scotland Challenge bike Ride from Glasgow to Edinburgh.
With a distance of 51 miles, for your average non regular long distance cyclist, I knew it wouldn't be a walk in the park (so to speak). But it would be achievable with a little preparation, I told myself.
I got out in the evenings for around 45 to 60 minutes two or three times a week and I was soon definitely feeling the benefits of it fitness wise. We tried various routes and went for a twenty six mile ride the weekend before the cycle. We were lucky as we live in the country and the ride was beautiful - though extremely hilly!
Two days after the event, how do I feel?
Remarkably good actually. I can feel that I have been doing exercise in my legs, but I don't feel wrecked. The training obviously worked. Yes I feel fitter and I certainly don't feel as lethargic as I can do in my sedentary position in front of a computer.
The ride itself was excellent. It started in the centre of Glasgow and gradually worked it's way out to the East, heading into suburbs, then country roads through villages. Although I have often travelled from Glasgow to Edinburgh, I can honestly say I had previously seen none of this route at all.
There were five feed stations along the route where you could stop for refreshment, plenty of food was laid on for you to help yourself to and that all important water.
The official lunch venue was Linlithgow Palace and a glorious place to stop and rest / refuel for a while. Unfortunately, I had just had a puncture in my back tyre and was more concerned with checking my bike over and making sure I had put everything back on the right way, than enjoying the food, or the lovely lake that the feed station was set up next to.
The last ten miles of the fifty one were, inevitably, the hardest. Coming up to Edinburgh, the course diverted from mainly roads to a cycle track which took us through the leafy suburbs of Edinburgh. This route met with (what seemed like at forty one miles in) some serious hills that really made you remember that you did have legs attached to your torso after all. The training on the hills nearer home definitely paid off here.
Eventually, a change to a pleasant cruise for the last stretch to the finishing line, where I had a very pleasant realisation that I had just cycled from Glasgow to Edinburgh, from the west of Scotland to the east.
Could you do this cycle ride?
I saw people of all ages doing this ride. There were children and people much older than me. Men, women. Cyclists who obviously rode regularly in clubs and competitions. There were very expensive bikes and bikes that were making such serious mechanical noises that you avoided them like the plague, for fear of seeing a part of their bike just a little too closely. There were people who were small and svelte, lots of slightly overweight people and some who were very overweight, but giving it a go (respect to them).
What would I do differently next time?
I would put a little more training in - that is I would start earlier and probably try and do another (second) long run before the day.
I took a rucsack, not a large one, with a hydration pack, tools and food in. I might think about not taking the food and hydration pack and really being careful with what I take on a future run, as the muscles in my shoulders and neck became very sore towards the end. I would definitely take plenty of water, but perhaps on my bike, not my back, besides, there is also plenty of water supplied at the feed stations.
I took spare inner tubes with me, which made it much easier to deal with my puncture, but my friends didn't. I would recommend taking at least one spare!
If you fancy getting out on that bike that has been sitting around for a while, there are some tips below on how to do it.
The ride can be done as a charity event and I did my ride in aid of cancer charity Maggie's.
Peter's top ten tips
Start by going out on short runs on the bike, perhaps down to a local park and back. Then ride around the park as well, then twice, three times etc, building up your stamina.
Check out a map of your area and spot what look like good routes, especially if they steer clear of traffic.
As you build up the length of your routes, try and increase your speed a little as well - keeping within the confines of what you are happy with.
Try and find yourself several routes to stop yourself getting bored. Try finding lots of small routes, then when you are happier with going out on longer routes, combine the smaller routes to make a longer route.
Learn to use your bike gears effectively - a lot of people don't. Use them as you would a car's - change up when going faster, down when going slower. Use them to power you up hills.
Wear lycra cycling shorts. Yes, really, do. Put a pair on under a pair of ordinary shorts if you like, but your credentials will be cushioned and will thank you for it!
Check out the Sustrans website for their national network of cycle tracks and good cycling advice.
Drink lots of water. Yes, lots. It can be deceiving how much water you are losing as you cycle, as the wind as you ride quickly takes surface moisture away.
Most important of all, enjoy it. Don't race if you don't want to. Do stop if you want to. Take all day if you have the time. Stop when you feel tired, have a rest and then carry on. 
Sign up for something to challenge yourself and give yourself a goal.
Pete wrote this for malehealth in 2010 - and he's still cycling.
The Men's Health Forum need your support
It's tough for men to ask for help but if you don't ask when you need it, things generally only get worse. Especially during a major pandemic like Covid-19. So we're asking.
Men appear more likely to get Covid-19 and far, far more likely to die from it. The Men's Health Forum are working hard pushing for more action on this from government, from health professionals and from all of us. Why are men more affected and what can we do about it? We need the data. We need the research. We need the action. Currently we're the only UK charity doing this - please help us.
Here's our fund-raising page - please chip in if you can.