The Men's Health Forum and Food Nation answered the call to the Movember Foundation's Social Innovation Challenge (SIC) to tackle loneliness in men with the Men's Pie Club. The pilot project is running for two years from November 2017 and the impact of the project is being evaluated by Propel Centre for Population Health at the University of Waterloo, Canada.
Blog post 1 by Chris Stein, Men's Pie Club project team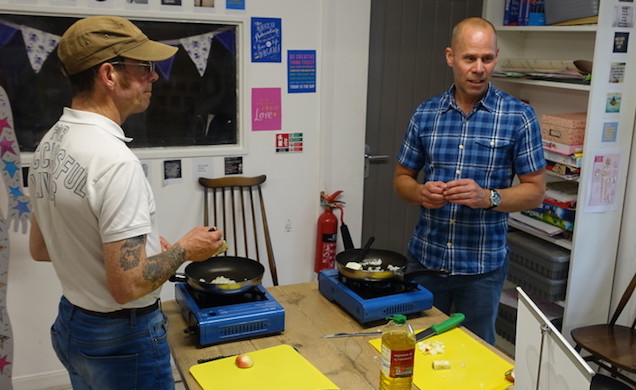 Ok … that's the topline out of the way. This blog series will take you through the challenge laid before us, the solution proposed, what we've learned thus far and how this whole thing is going to be evaluated to make sure the learning from the project can be taken forward.
But, before we go any further …
What is loneliness?
One thing it is not, is isolation, though I think many, including myself, have confused the two over the years. Someone much more learned on the topic than I am described loneliness as follows:
"Loneliness is a subjective, unwelcome feeling of lack or loss of companionship, which happens when we have a mismatch between the quantity and quality of social relationships that we have, and those that we want. It is often associated with social isolation, but people can and do feel lonely even when in a relationship or when surrounded by others" (Jo Cox Commission on Loneliness). 
This means pretty much anyone can feel lonely at any time. I used to think of someone that was lonely as living in some remote area with only a post office and Happy Shopper nearby, but it makes perfect sense the loneliness is more a sense than a state and rings true for me at different times in my own life. It might ring true for you when thinking about it like this. 
Who does loneliness affect?
I suppose, being honest, I also thought older people were more likely to feel lonely than younger people. I thought this more when I was younger myself, filling my time with parties, movies, comedy clubs, etc. but I realise now that it isn't just older people. In fact, on reflection, there were many times when I felt lonely at points despite being surrounded by people.
In fact:
"over 9 million people (almost one-fifth of the population) reporting they are always or often lonely" (Co-op an Red Cross, Trapped in a Bubble). 9 million people!? Wow!
"8 in 10 people caring for loved ones "have felt lonely or socially isolated" (Carers UK)
"More than half (52 per cent) of UK parents have suffered from loneliness – with a fifth (21 per cent) having felt lonely in the last week" (Action for Children)
43% of young people aged 17 to 25 report experiencing challenges with loneliness (British Medical Journal)
"Half of disabled people say they are lonely, and one in four feel lonely every day" (Sense).
"58% of migrants and refugees taking part in the research described loneliness and isolation as their biggest challenge living in London" (Campaign to End Loneliness)
"An estimated eight million (35 per cent) men feel lonely at least once a week, whilst for nearly three million (11 per cent) it's a daily occurrence." (Royal Voluntary Service)
That is anyone, at any time of their lives!
In this case, however, we're focussing on men and that last statistic is eye-catching. Further research suggests that 35 is when men report feeling loneliest. A study conducted by Beyond Blue, in Australia shows that 35 is the age when men's social support networks begin to dwindle and that they don't get back to the levels they were at the age of 34 until the age of 55, so there is some evidence of this being a cross-cultural phenomenon.