We've teamed up with the World Professional Billiards and Snooker Association (WPBSA) to produce Snooker Survival, a snooker health guide for the 2019 World Snooker Championship.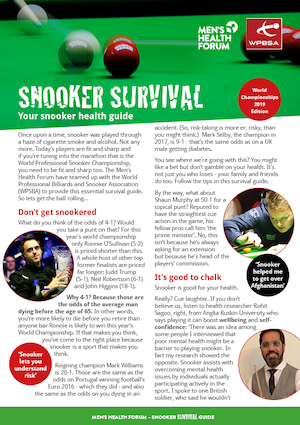 The booklet provides a witty take on this year's World Championship, highlighting the contribution snooker can make to good health and wellbeing, while offering hints and tips to both players of the game and viewers to keep in shape while enjoying snooker's flagship tournament.
The campaign has the support of World number eight Kyren Wilson, top right, who keeps fit with the support of his brother Tyler, a personal trainer.
Health of both players and fans
Kyren said: 'I'm excited to be backing this guide to men's health for the World Championship. Staying healthy has a really positive impact on my game. Snooker is a fantastic sport that can make an important contribution to people's health and happiness, both as players and fans. This excellent guide will help everyone to enjoy the World Championship while keeping an eye on their health and fitness.'
After the excitement of Tiger Woods in the US Masters, the thrills of City v Spurs the Champions League, it's time for the sport that can really keep you up all night: snooker. 
The Forum's CEO Martin Tod said: 'When one UK man in five doesn't make it to 65, there's still lots to be done to improve men's health. There's plenty that can help, including playing snooker – which has more health benefits than you might think.
'We're delighted to team up with the WPBSA to get some top tips on eating, drinking and keeping active to viewers, players and fans with our Snooker Survival Guide. And since laughter is a great medicine, we hope it will make people smile too.'
The guide is available online right here or in print through many of the UK's top snooker clubs.