---
Stopping smoking boosts mental wellbeing too
Usual old hat for National No Smoking Day? Well, actually, no.
You may think you've heard everything about the damage smoking does to you. Every organ in the body harmed. Well, new research suggests it's also bad for our mental health.
Smokers often claim smoking helps with stress. It does. But only because we're feeding our addiction. You feel anxious and need a nicotine hit. You get the hit. You feel better. Yes, so on the face of it, smoking helps. But what about if you didn't need the hit in the first place?
Freedom from stress
If you quit, you may feel some stress when the nicotine first leaves your system. And, true, it takes maybe four weeks. But any irritability or restlessness will give way to a far less-stressed feeling. You now no longer need that nicotine top-up. Freedom. And if you don't believe me, there's new research
Research from 2014 showed that stopping smoking reduced depression and anxiety when compared to continuing to smoke. An updated analysis is out now. In summary, the new findings from over 160,000 people show that quitting:
Reduces depression
Reduces anxiety
Improves mood
Improves quality of life
And another thing: we often worry that we'll lose our 'smoking mates' if we stop. The research found no evidence of this. Fact is: they all want to stop too.
Improved mental health. It's another good reason to quit.
#TodayIsTheDay #NoSmokingDay #QuitforCovid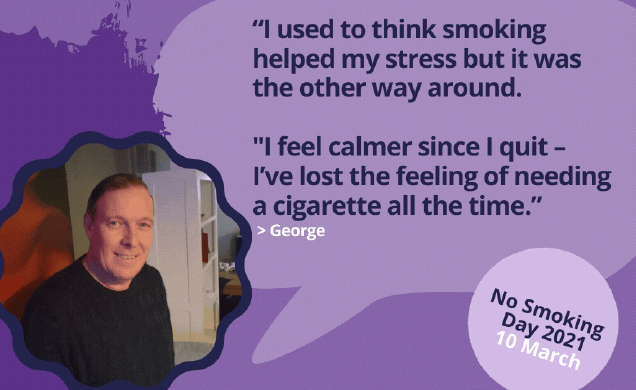 Jim Pollard,
Editor (gave up smoking on third attempt!)
The Men's Health Forum need your support
It's tough for men to ask for help but if you don't ask when you need it, things generally only get worse. Especially during a major pandemic like Covid-19. So we're asking.
Men appear more likely to get Covid-19 and far, far more likely to die from it. The Men's Health Forum are working hard pushing for more action on this from government, from health professionals and from all of us. Why are men more affected and what can we do about it? We need the data. We need the research. We need the action. Currently we're the only UK charity doing this - please help us.
Here's our fund-raising page - please chip in if you can.