---
Beating loneliness? We can do it.
For this year's mental health awareness week (9-15 May 2022), the theme is loneliness.
Loneliness has been compared to smoking in terms of its negative impact on health so is an excellent choice of theme. It may seem counter-intuitive but beating loneliness begins with ourselves. 
Feeling lonely can lower self-esteem and make us feel disconnected from the world. The longer we are lonely, the more these feelings compound. That makes it very hard to reach out to others even when, on some level, we know we should. 
It may be easier - rather than beating ourselves up for not being more social - to start by doing things that improve well-being more generally - things that make us feel better within ourselves. That's where our CAN DO challenge comes in.
The CAN DO Challenge
The CAN DO Challenge invites you to:
Connect - connect with other people (eg. call an old friend or family member) 
(Be) Active - move your body (eg. go for a run/walk/swim/dance/etc)
Notice - take notice of the environment around you (eg. turn off your phone for an hour and look around) 
Discover - learn something new (eg. read a book you haven't read before)
Offer (or give) - do something for someone else (eg. volunteer for a local community group) 
These are sometimes called five ways to wellbeing. Try them. Leave Connect till later if you like. If you start with the others, you'll find you naturally start to feel more connected to the rest of the world and - with time - those feelings of connection can turn into real connection with real people.
Share your ideas
The Forum will be encouraging people to take up the CAN DO Challenge in Men's Health Week next month - so if you have any great ideas for any of the five ways, let us know.
#mentalhealthawarenessweek
Jim Pollard,
Editor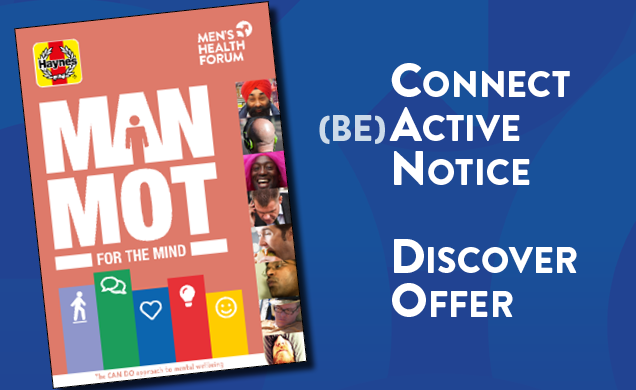 The Men's Health Forum need your support
It's tough for men to ask for help but if you don't ask when you need it, things generally only get worse. Especially during a major pandemic like Covid-19. So we're asking.
Men appear more likely to get Covid-19 and far, far more likely to die from it. The Men's Health Forum are working hard pushing for more action on this from government, from health professionals and from all of us. Why are men more affected and what can we do about it? We need the data. We need the research. We need the action. Currently we're the only UK charity doing this - please help us.
Here's our fund-raising page - please chip in if you can.