---
Breakfast is best
Breakfast is probably the most important meal of the day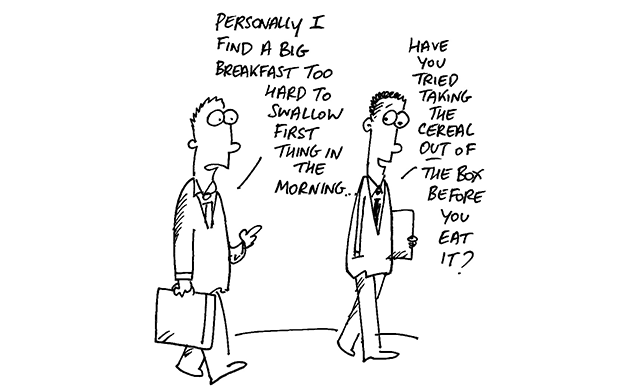 Breakfast is the most important meal of the day. Having gone without fuel overnight, you need to fill the empty tank. If you don't, your body goes into emergency mode, breaking down muscle to burn. Then, because you're hungry, you eat more than you need later in the day, perhaps grabbing less healthy snacks because they're quick and easy. 
What happens if I skip breakfast?
A 16-year study, involving almost 27,000 men, found those who skipped breakfast were more likely to have a fatal heart attack than those who didn't. 
Why? Because skipping breakfast increased their risk of obesity, high blood pressure, high cholesterol and diabetes.
What are the best cereals to eat?
Go for unsweetened wholegrain cereals such as unsugared muesli, shredded wheat, weetabix or oatmeal porridge. (Granola too is full of good stuff but high in calories.)
Serve with semi-skimmed milk, unsweetened yoghurt/fromage frais or dairy-free alternative such as soy, almond, rice or oat milks. Look for milk alternatives that are calcium-enriched. Add fresh berries, nuts or chopped fruit for extra flavour.
Does a smoothie count as a portion of fruit?
If you include a good amount of whole fresh or frozen fruit and vegetables, a home-made smoothie can count as up to two of your 5-a-day. 
Use a variety of different fruits and vegetables (carrot and beetroot are especially good) and add a few leaves of spinach or kale, too. You won't taste the extra leaves but they add extra vitamins, fibre and colour. 
Shop-bought smoothies may have hidden extras like flavourings and much less fruit. Check labels. They should tell you whether they count as a portion. (Go easy: smoothie and fruit juice sugars may be natural but they are still free sugars.)
We don't currently post comments online but are always keen to hear your feedback.
This content is wholly based on the Men's Health Forum's man manual Eat. Drink. Don't Diet. which was prepared in line with the NHS England Information Standard of which the MHF is a member. Follow the links for more information or to buy copies.
Date published 18/06/15
Date of last review 28/02/15
Date of next review 28/02/18

The Men's Health Forum need your support
It's tough for men to ask for help but if you don't ask when you need it, things generally only get worse. Especially during a major pandemic like Covid-19. So we're asking.
Men appear more likely to get Covid-19 and far, far more likely to die from it. The Men's Health Forum are working hard pushing for more action on this from government, from health professionals and from all of us. Why are men more affected and what can we do about it? We need the data. We need the research. We need the action. Currently we're the only UK charity doing this - please help us.
Here's our fund-raising page - please chip in if you can.