---
Breasts FAQs
Do you have man boobs — 'moobs'? The technical term for men having 'excess tissue' in the chest area is gynaecomastia.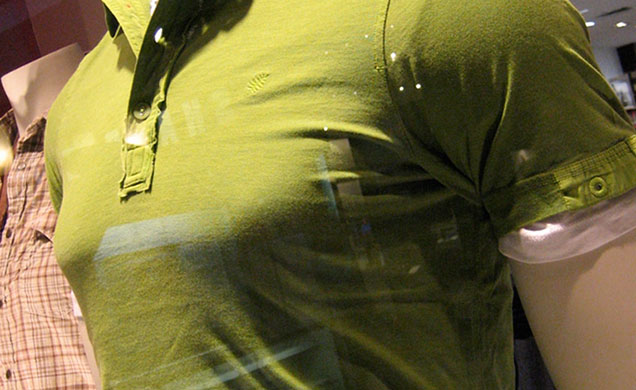 According to the British Association of Aesthetic Plastic Surgeons, male breast reduction increased by 446% from 2006 to 2011. Having said that it is still a relatively small number compared to other operations - up from 177 ops in 2006 to 790 in 2011.
But the emails started buzzing around the Men's Health Forum when we read a report quoting doctors who said that as many as half of men could be effected.
What are the signs of gynaecomastia?
Signs vary from a small amount of extra tissue around the nipples to more prominent breasts. It can affect one or both breasts. Sometimes, the breast tissue can be tender or painful, but this isn't always the case.
What causes gynaecomastia?
Gynaecomastia can have several causes.
Hormone imbalance
Gynaecomastia can be caused by an imbalance between the sex hormones testosterone and oestrogen. Oestrogen causes breast tissue to grow. While all men produce some oestrogen, they usually have much higher levels of testosterone, which stops the oestrogen from causing breast tissue to grow.
If the balance of hormones in his body changes, this can cause a man's breasts to grow. Sometimes, the cause of this imbalance is unknown.
The growth in breast tissue is not due to extra body fat from being overweight, so losing weight or doing more exercise will not improve the condition.
Newborn baby boys
Gynaecomastia can affect newborn baby boys because oestrogen passes through the placenta from the mother to the baby. This is temporary and will disappear a few weeks after the baby is born.
Puberty
During puberty, boys' hormone levels vary. If the level of testosterone drops, oestrogen can cause breast tissue to grow. Many teenage boys have some degree of breast enlargement. Gynaecomastia at puberty usually clears up as boys get older and their hormone levels become more stable.
Older age
As men get older, they produce less testosterone. Also, older men tend to have more body fat, and this can cause more oestrogen to be produced. These changes in hormone levels can lead to excess breast tissue growth.
Other causes
In rare cases, gynaecomastia can be caused by:
side effects of medication, such as anti-ulcer drugs or medication for heart disease
illegal drugs, such as cannabis or anabolic steroids
drinking too much alcohol
a health abnormality, such as kidney failure or liver disease
Klinefelter's syndrome, a rare genetic disorder
lumps or infection in the testicles
Treatment for gynaecomastia
If you're worried about breast tissue growth, see your GP.
If your GP thinks treatment is needed, there are two types of treatment for gynaecomastia:
surgery to remove the excess breast tissue
medication to adjust a hormone imbalance
Your GP can discuss the treatment options with you. Find out more about male breast reduction surgery.
Procedures such as breast reduction surgery are not usually available on the NHS unless there is a clear medical need for them. For example, if you have had gynaecomastia for a long time, it has not responded to other treatments and it is causing you a lot of distress or pain, your GP may refer you to a plastic surgeon to discuss the possibility of surgery.
Always see your GP if the area is very painful or there is an obvious lump. Sometimes, the lump may need to be removed.
Gynaecomastia is not related to breast cancer but if worried about breast swelling, see a GP.
We don't currently post comments online but are always keen to hear your feedback.
MAIN IMAGE: Man Boobs? by Todd Baker licensed under CC BY 2.0
Date published 02/04/14
Date of last review 02/04/14
Date of next review 02/04/17

References
The Men's Health Forum need your support
It's tough for men to ask for help but if you don't ask when you need it, things generally only get worse. Especially during a major pandemic like Covid-19. So we're asking.
Men appear more likely to get Covid-19 and far, far more likely to die from it. The Men's Health Forum are working hard pushing for more action on this from government, from health professionals and from all of us. Why are men more affected and what can we do about it? We need the data. We need the research. We need the action. Currently we're the only UK charity doing this - please help us.
Here's our fund-raising page - please chip in if you can.