The Department of Health's intention was that the report should provide 'an evidence base to help determine key gender health priorities for the Department and the NHS'.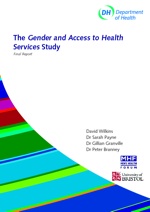 The study looked at the statistical and epidemiological data, reviewed the academic literature and, despite some significant gaps in knowledge, examined the links between service use and health outcomes. The process included bringing together some of the leading thinkers in the field to discuss the issues at a one day symposium at the King's Fund.
The report recommends:
Improving the collection, recording and use of gender-disaggregated data (ie. data showing the differences between men and women) in the health service.
Prioriting research to improve the 'surprisingly poor' evidence base on the relationship between gender and use of health services.
The rigorous enforcement of the statutory requirements under the Equality Act 2006 to implement gender equality schemes and gender impact assessments.
The attribution — on a trial basis — of some Q uality and Outcomes Framework points to the achievement of gender-equitable distribution of the service under consideration.
a national Tackling Gender Inequalities Programme with to support, evaluate and disseminate good local initiatives which seek measurably to close gender gaps in service use and health outcomes.
that the Department of and local health bodies actively seek to influence non-NHS organisations in favour of delivering more gender-equitable services.
at primary care level, the commissioning and gender-monitoring of initiatives in three areas: more flexible opening hours; the provision of outreach services; and inviting patients to attend for 'health checks'.
a review by the Department of the actions presently in its health inequalities strategy to ensure that they are implemented in a gender-sensitive way.