---
How to live with a long-term condition
What's the secret of living with a long-term condition? Jim Pollard has interviewed many men living with a variety of LTCs. Here are their tips.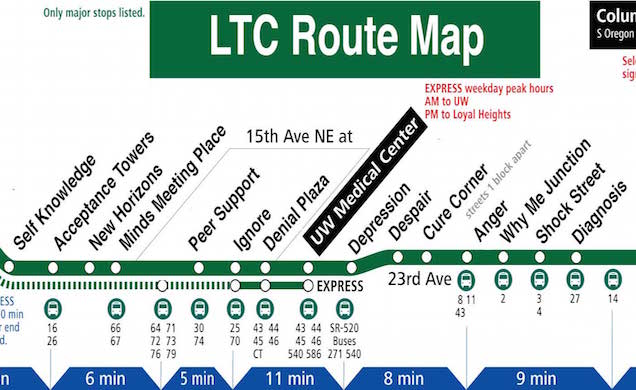 Doctors, health services and many patients struggle with long-term conditions (LTCs) because there is rarely any going back. Something has changed and things will never be as they were. It's our obsession with a non-existent notion of 'normality' that sometimes makes living with an LTC so difficult.
Because we're all different and our LTCs are all different, it can be hard to make generalisations. So some of these suggestions will be more useful to you than others.
1. Live in the present
Developing a long-term condition or having one or more thrust upon you will change your life. You will be a different person afterwards and it's better for your long-term physical and mental well-being to recognise this than to pretend that nothing has happened.
This may involve you in grieving for some aspect of your old self, your old body or your old life which has gone. It's fine to be sad. It's good. It's normal. And like any other bereavement, with time comes acceptance and it's important not to fight this.
2. Learn about yourself
There are two terrific articles on the site about living with long-term conditions by James and Mark that put this better than I can. But in a nutshell, they argue that through looking inside themselves in order to come to terms with their LTC, they've also come to know and understand themselves better. Greater self-knowledge has enabled them to be stronger, more confident and make better decisions for their own happiness.
Since greater self-knowledge involves facing up to yourself as you really are, it can involve looking under some unpleasant stones. Therapy or counselling may help here.
3. Meet people like you
Thanks in no small measure to the internet, there are now voluntary groups and organisations for people with every LTC you can think of and then some. Join them. It's an important part of not denying your condition but recognising it as part of you. Sites like selfmanagementuk.org may help.
Your condition also gives you something very important in common with the others in the group which can enable you to get to know each other more quickly and more deeply than in everyday life. It can result in your making some excellent long-term friends who really know you.
4. You are even more unique than ever!
You are possibly the only person with your LTC among your family and friends and work colleagues. That means you bring a unique insight into life and work that is born out of living with your LTC every day.
More and more smart employers are embracing difference. They know that people who always employ the same kind of people always come up with the same kind of solutions and that's simply not good enough in today's competitive global market. Original, imaginative people who can think outside the box — and people with LTCs are often all of these because they have to be — are increasingly sought after.
5. Don't become an amateur doctor
Take an interest in the medical developments that affect your LTC but don't become obsessed with reading everything you can in every journal and on every website. You need to take what you read in the mainstream media with a pinch of salt and for some websites you'll need a whole salt cellar. Not good for the heart.
Don't place all your hopes on a medical breakthrough and forget the word 'cure'. Obviously you'll want to take your medical appointments seriously but you're a person not a medical condition, live life. Let the doctors do their job and you do yours.
6. Your condition is long-term; the interest of others is not
Many of us in the west tend to see life in terms of problems and solutions. As a result, while people around you may be fascinated by test results and surgical procedures all the time that they think they might lead to a solution to your 'problem', their attitude will change once they realise they won't. They may then find them boring and, since people who care about you may find it difficult to accept that there is no 'cure' for you, even depressing.
Don't apologise for your LTC but understand that its place in your life is different from its place in others' lives. If you need to talk, that's where meeting other people with your condition can be so helpful.
7. Remember the advice of Alcoholics Anonymous
A friend of mine was told when he went to his first Alcoholics Anonymous meeting to try to see the similarities between his life and those of the people in the meeting and not the differences. By seeing the similarities we have with others it far easier to learn from them and about ourselves.
And if you think a bunch of alcoholics have nothing to teach you, you should probably read these tips again.
The Men's Health Forum need your support
It's tough for men to ask for help but if you don't ask when you need it, things generally only get worse. Especially during a major pandemic like Covid-19. So we're asking.
Men appear more likely to get Covid-19 and far, far more likely to die from it. The Men's Health Forum are working hard pushing for more action on this from government, from health professionals and from all of us. Why are men more affected and what can we do about it? We need the data. We need the research. We need the action. Currently we're the only UK charity doing this - please help us.
Here's our fund-raising page - please chip in if you can.