---
How to look after your back
Is back pain the main cause of days off work?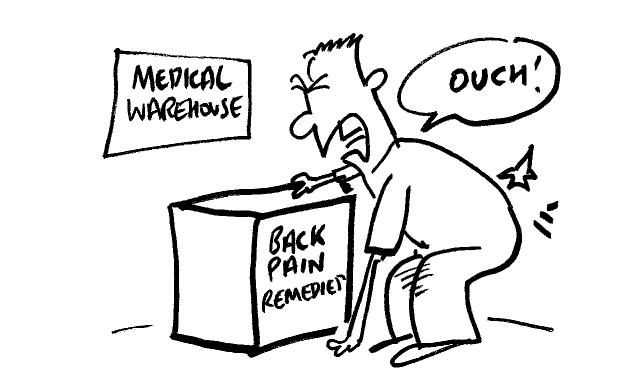 In the UK, 15 million working days were lost to back pain in 2013. It is the main cause of long-term sickness absence.
The key thing is to keep active. Immobility weakens muscles and range of movement.
Think about your back when staying in the same position for some time or lifting. 
Lift with a straight back and with the load close to your waist. Distribute weight evenly and know your limits.
Exercise will both prevent and reduce back pain. If you're overweight, lose some. Over-the-counter painkillers can help in the short term but if back pain persists, see your GP. 
The NHS Choices website has an online back-pain guide.
We don't currently post comments online but are always keen to hear your feedback.
This content is wholly based on the Men's Health Forum's The Man Manual which was prepared in line with the NHS England Information Standard of which the MHF is a member. Follow the links for more information or to buy copies.
The Men's Health Forum need your support
It's tough for men to ask for help but if you don't ask when you need it, things generally only get worse. Especially during a major pandemic like Covid-19. So we're asking.
Men appear more likely to get Covid-19 and far, far more likely to die from it. The Men's Health Forum are working hard pushing for more action on this from government, from health professionals and from all of us. Why are men more affected and what can we do about it? We need the data. We need the research. We need the action. Currently we're the only UK charity doing this - please help us.
Here's our fund-raising page - please chip in if you can.