New figures from the Office for National Statistics show a rise in the number of men who take their own lives. We must help men before crisis hits.
There were 4,858 male suicides in the UK in 2013
The highest UK suicide rate in 2013 by broad age group was among men aged 45 to 59 the highest for that age group since 1981.
The male suicide rate was more than three times higher than the female rate, with 19.0 male deaths per 100,000 compared to 5.1 female deaths.
The male suicide rate in 2013 was the highest since 2001. Female rates have stayed relatively constant since 2007.
The highest suicide rate among the English regions was in North East England at 13.8 deaths per 100,000 population, while London had the lowest at 7.9 per 100,000.
Colin Penning at the Men's Health Forum said:
We need action to make mental health services work for men. If you're in full-time employment they don't work for you. If you drink to cope with stress at work or with money problems they don't work for you. Who do they work for? The new figures show the rate is getting worse with many more middle aged men taking their own lives. This time we need action.
Men's Health Manifesto calls for action
The Men's Health Forum's Men's Health Manifesto calls on health services to engage with men on mental health and to tackle the problem of men being bounced between mental health and drug & alcohol services.
Colin Penning continued:
NHS England must get serious about mental health funding and making the changes needed to join up services for people with drug, alcohol and mental health problem. We also need to see an explicit public mental health strategy from Public Health England.

Local public health teams and Clinical Commissioning Groups must take men's mental health seriously, they can start by including it and the health of unemployed men in their local action plans.

We know that losing work hits men hard, leading to stress and relationship problems. We've been working with Job Centre Plus on how we can help men before they start struggling with the effects of becoming unemployed.
The new figures accompany a government report on suicide prevention which sets out the need for new ways to tackle men's mental health.
The Men's Health Forum has been doing this, working to help men struggling with stress, depression and anger. The charity recently launched Man MOT which enables men to chat anonymously online to a GP and to a psychologist about their stress and anger worries.
The charity published Beat Stress, Feel Better, a manual published with car workshop manual specialists Haynes. Beat Stress Feel Better tackles the still taboo topic of male mental health without ever once mentioning it.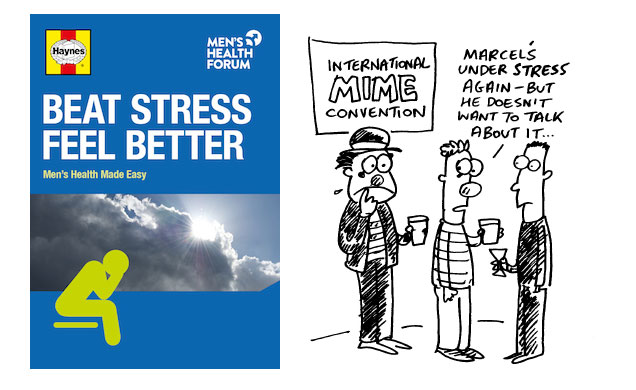 More