A review of the literature around men's health-seeking behaviour and use of the internet has been published as part of the development phase of the Men's Health Forum's Haringey Man MOT project.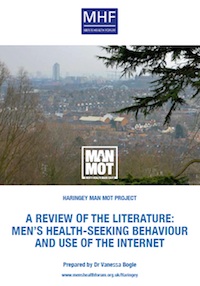 A Review of the Literature: Men's Health-seeking Behaviour and Use of the Internet was prepared by the project's researcher Vanessa Bogle. She says that the internet has helped men access health information but that it doesn't change social norms and has called for more research.
Vanessa says: 'The present review has identified that health-seeking behaviour is a complex and dynamic phenomenon. The internet has assisted in transforming the way we acquire health information, support and advice.
'However, simply making the internet available does not guarantee uptake by men. For men to change, a change in social norms is required. In sum, not all men are the same. 
'Research in this area is in its infancy and there is a clear need for further studies to examine the influence of masculinities on how men behave, taking into consideration variables other than gender in order to gain a more complete picture.'
The Haringey Man MOT project, of which this literature review is part, will lead to an online health information service designed by and for the men of Haringey. It will feature live chat with a GP.