The NHS England mental health taskforce must tackle men's mental well-being.
​More news on mental health today as NHS England announces a mental health taskforce to look at the future of mental health services.
Almost four in five suicides are by men – suicide is the biggest cause of death for men under 35 and there has been a sharp increase in the rate among men aged 35-64.
Will men's mental health be addressed?
The Men's Health Forum has challenged NHS England and others to act on men's mental health.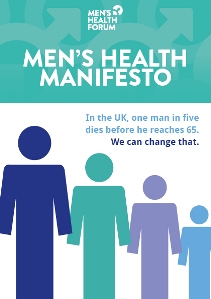 Martin Tod, chief executive of the Men's Health Forum said:
Three changes from NHS England could make a real difference to the lives of so many men.
Drive access, don't wait for men to engage. Ensure mental health services work for full-time workers.
Secondly , support research on men's mental health
Finally, we need to join up care for people with drug, alcohol and mental health problems. Stop using drug or alcohol problems as a barrier to mental health treatment – invest in integrated care for dual diagnosis.
The Men's Health Forum has set out recommendations for mental health in its Men's Health Manifesto and published a manual for men Beat Stress, Feel Better.
More information: