The number of strokes experienced by working age men and women has risen dramatically.
Between 2000 and 2014, the number of stroke cases amongst middle-aged men rose by 46%
Research by the Stroke Association found that in England in 2014 there were 6,221 hospital admissions for men aged 45-54, compared to 4,260 in 2000. This is a rise of 1,961 on 14 years earlier. 
Increasing obesity levels, sedentary lives and unhealthy diets were all stated as key contributors to the rise in the number of strokes.
Chief Executive of the Men's Health Forum, Martin Tod, said:
Today's statistics from the Stroke Association highlight that men are still more likely to suffer from cardiovascular disease. It's really worrying that stroke incidence is rising so quickly among working-age men.

One key to preventing strokes is tackling health issues early and encouraging healthy lifestyles. We've made this a key aim of Men's Health Week.

Local health systems also need to do more to reach at risk men. The NHS Health Check programme focuses on cardiovascular disease yet 65% of local authorities don't even know how many men they are reaching. 

Our Men's Health Manifesto calls on PHE and local health systems to remove te barriers to using health care and encourage men to change their lifestyles.

A key target should be to get at least 50% male uptake in NHS Health Checks.
Men's Health Week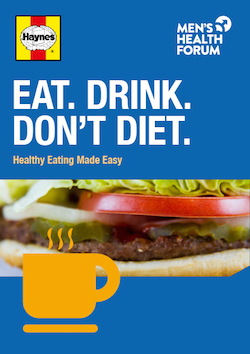 The report stated that unhealthy lifestyles was partly to blame for the rise in the number of strokes. Men's Health Week 2015, which runs from the 15th to 21st June, focuses on healthy living for men.
It challenges men to:
Look after their relationships and wellbeing
Don't smoke
Drink sensibly 
Be active
Watch their weight
Turn up to their NHS Health Check
All of these encourage men to lead a healthy lifestyle and reduce the risk of stroke. Sign up for for Men's Health Week news and information and we will help you get involved in the week.
The third edition of the Man Manual and Eat. Drink. Don't Diet also gives men all the information they need for a healthy lifestyle. You can order any of our manuals on our online shop. 
More Info