---
'Jogging, writing - lockdown was an opportunity…'
John Walker, 64, has not been bored these past few months.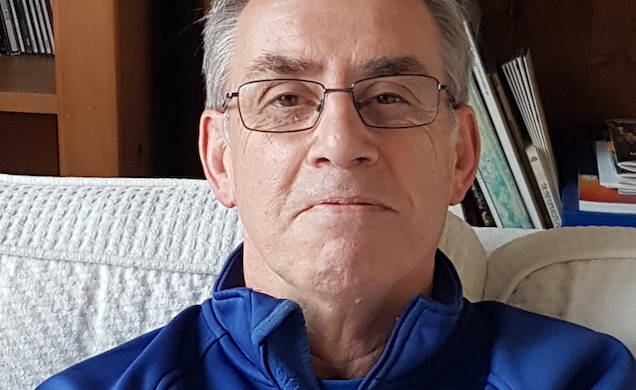 It is highly likely that in nine months or so the number of babies being born will be above the average for the time of year.
I say this because it's one of the ways a lot of people have been coping whilst in lockdown. I am not one of those people though. My coping took a different path. In fact, it took several of them.
Please don't get me wrong. I'm not against the idea of a roll in the hay from time to time. It's just that at my age (64) and with the weather being so good, particularly at the start of lockdown, there were other things I was keen to do first.
Responsibility for shopping
To me, it was more a question of when rather than if there would be a lockdown. Other countries had imposed restrictions, so it was inevitable it would happen. After the announcement, I sat down with my wife and we took stock.
She is over 70 and suffers from asthma. Whilst not classed as someone needing shielding, she nevertheless fell into the vulnerable category. She decided she was keeping her head down for the foreseeable future, so responsibility for shopping was transferred to me at a stroke.
Before lockdown, my doing the weekly supermarket run was rare. I have accompanied my wife, but only to push the trolley and carry the bags. Now I had to plan the time to go to hopefully avoid queues, and the quickest route through the aisles. Things like sell-by dates assumed major importance. Tricky decisions about alternatives to purchase if what is really wanted isn't available had to be made. Impulse purchases (usually gin) were now mine. I coped by planning everything properly. The sense of achievement I felt once the job was complete was immense.
I'm enjoying jogging
I think I'm an active person. I play sport twice a week and go to the gym. With lockdown, my gym and sports halls closed down at a stroke. How would I cope? The spectre of weight-gain through lack of exercise beckoned, but the government had obviously read my mind. I was to be allowed an hour of exercise each day, subject to social distancing being maintained.
The area I live in is surrounded by canals. There may be no transport infrastructure to speak of, but there are always narrow-boats to admire. With this in mind, I decided to start jogging. It's something I haven't done for years, but needs must when the devil threatens to withhold your chocolate biscuits.
Guess what? I'm really enjoying it. My gin intake may have increased, but my weight has reduced by 16 pounds so far. I jog every other day and suspect I may be developing an addiction, something the old me would never have countenanced.
I feel fitter than I have ever done. My doctor will be pleased if I ever tell him, but I'm not sure when that will be now I'm in perfect health.
My appreciation of the beauty of where I live, and the animals living in it, has increased immeasurably. It's a win-win situation.
I installed a webcam!
Having worked for most of my life, being prevented from doing so by lockdown has been a strange experience. The concept of having time on my hands was as surreal as the absence of cars from the roads.
I decided that the best way to cope with this unexpected freedom was to keep busy doing all the things I hadn't got round to doing for one reason or another. Soffits were cleaned; the garden tidied up; paving stones jet-washed. The leaking gutter was finally repaired properly. That book I'd been meaning to read was devoured outside in a comfy chair as the sun shone. Even the car got cleaned. I managed to purchase, install and work a webcam.
Writing short stories
Even after this I found I still had free time. Neighbours offered jigsaws and puzzles to attempt. I declined in favour of something else. I started to write again after an absence of so many years where life simply got in the way. As with jogging, it has proved an unexpected pleasure. Creating reports on the laptop for a presentation is a chore, but writing a short story based on something you thought about whilst jogging along the towpath is more pleasurable than the smell of newly-fried bacon.
In conclusion, I coped with lockdown by planning what I would do with my time. Some of it was through necessity, but much was a response to a feeling I had that this was an opportunity to do certain things I was unlikely to get again. To say I think I made a good plan is an understatement. I've not been bored. The absence of live football, a sport I love, has not upset me. My appreciation of all aspects of my life has improved dramatically. The weather has helped, of course. It could have been so much worse.
This article reflects the experience and the views of the individual. It is not health information from the Men's Health Forum under the terms of the NHS England Information Standard.
The Men's Health Forum need your support
It's tough for men to ask for help but if you don't ask when you need it, things generally only get worse. Especially during a major pandemic like Covid-19. So we're asking.
Men appear more likely to get Covid-19 and far, far more likely to die from it. The Men's Health Forum are working hard pushing for more action on this from government, from health professionals and from all of us. Why are men more affected and what can we do about it? We need the data. We need the research. We need the action. Currently we're the only UK charity doing this - please help us.
Here's our fund-raising page - please chip in if you can.