---
Martin: I forgot the word 'ventilator'
Martin was just 42 when Covid-19 struck in March 2020.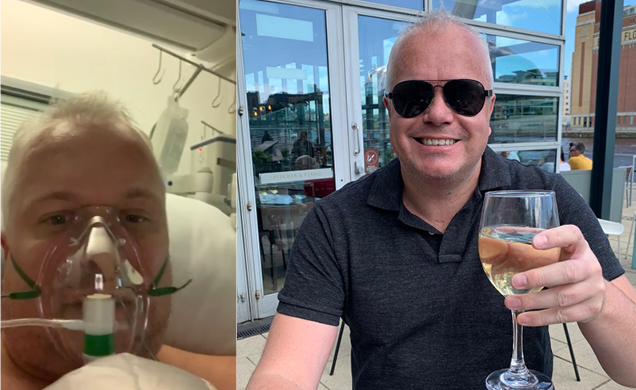 On 25 March I was admitted to hospital with breathing difficulties. My asthma had been problematic for a few days and I'd been to A&E twice before. Not only did I have difficulty in breathing, but I was bloated and had severe abdominal pain and was dazed and confused.
I was immediately put onto 100% oxygen for a few hours. When my chest x-ray was taken I was told it looked like broken glass. I'd already had two negative tests for Covid-19 and another one came back negative too. But the doctor could see I had the virus. I was 'clinically Covid'.
They put me on a respirator but it wasn't really my breathing that was worrying them. I had a perforated bowel, possibly caused by Covid, that needed their attention. I was critically ill. They considered operating straight away. But my breathing difficulties meant they had to try and treat me with antibiotics.
Wasn't certain I'd wake up
I had a few minutes with my partner before being taken to the High Dependency Unit. I recorded video messages for my family as it wasn't certain if I'd wake up.
In the early hours on Thursday 26th March I was induced into a coma. The hospital continued to test me for Covid-19, and it wasn't until my the fifth test that it was confirmed I had the virus. By then, I had been in a coma for three days.
In total, I was unconscious for 11 days. When I woke up, I discovered I'd had emergency surgery. I now have a stoma (a colostomy bag). When they tried to bring me round from my coma, I was distressed. I was fighting against the tubes down my throat. So they had to put me back under and perform a tracheotomy on me in theatre.
Had to learn to walk and talk again
I remained in intensive care for several days before being allowed onto a recovery ward. I had to learn to walk and talk again. I was so weak after losing three and a half stone that I wasn't even able to hold a pen and write. After 35 days in hospital I was allowed home.
One of the things keeping me going was the thought of getting back to work. I love my job and wanted to get back to it but I needed to work too. I couldn't survive on statutory sick pay. I had a phased return, eventually going back full-time early August.
Four months on, I still have symptoms
Despite being Covid-free for four months I still have major symptoms. I am exhausted and it gets worse as the day progresses. I'm very weak and have difficulty in lifting anything. My muscles ache. My tongue swells up and my hands and feet sometimes feel like they're burning. I get a rash all over my body whenever I get too hot. This can be in a bath, shower, walking, sitting outside.
I forget words. Yesterday I couldn't remember the word 'ventilator'. I had to google 'Covid breathing machine'. Obviously, I've been using the word 'ventilator' a lot since I was on one. It was shocking to suddenly forget it.
Martin, who now plans to get married next year having postponed the wedding this year, has made this video. Viewers beware: there are a lot of images of hospital food.
This article reflects the experience and the views of the individual. It is not health information from the Men's Health Forum under the terms of the NHS England Information Standard.
The Men's Health Forum need your support
It's tough for men to ask for help but if you don't ask when you need it, things generally only get worse. Especially during a major pandemic like Covid-19. So we're asking.
Men appear more likely to get Covid-19 and far, far more likely to die from it. The Men's Health Forum are working hard pushing for more action on this from government, from health professionals and from all of us. Why are men more affected and what can we do about it? We need the data. We need the research. We need the action. Currently we're the only UK charity doing this - please help us.
Here's our fund-raising page - please chip in if you can.