---
Mike: I had my 70th birthday in a coma
Mike was one of the first people hospitalised with Covid-19 back in February. The virus has attacked nearly every part of his body.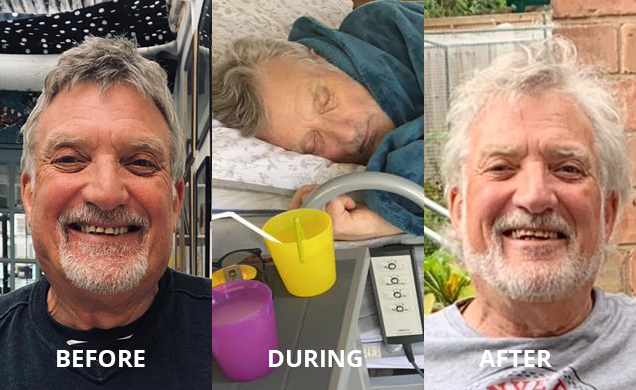 I went to A&E on the 22nd of February with a raging temperature and coughing. It turned out to be the first day of nine weeks in hospital, three of them in an induced coma on a breathing ventilator. I had my 70th birthday in a coma.
Before I got Covid-19, I was pretty fit. I played tennis a couple of times a week despite having lost a leg in 2012 following failed surgery. We had a holiday in Derbyshire just before I fell ill and we were walking several miles a day.
Cytokine storm
I've been told I was probably the first person in Nottingham to be admitted to hospital with Covid. I don't know how I survived really. In intensive care, I had tubes coming out of me everywhere - it was real Dr Who stuff. I had a cytokine storm which is an overreaction of the body's immune system. It damaged many parts of my body including my eyes and I now wear glasses.
They couldn't get me off the ventilator. They tried three times and my lungs just wouldn't pick up my breathing. They told my family they weren't sure I'd make it and were looking at other options including a tracheotomy (an incision in the windpipe to aid breathing) that could mean I couldn't speak. I was in a coma but I do wonder if perhaps I heard this conversation as I know it happened at my bedside. The next time they took me off the ventilator, I breathed.
I thought I was at a football match
I had post-coma delirium for a number of weeks. I genuinely believed that I was in Newcastle for a football match. I thought I was in a guest house and I could name all the other guests. I had created a whole story for myself. It was 100% real to me but over time, I realised that I'd been delirious.
I was 15 stone when I entered hospital and 11 stone 6 pounds on discharge. It's not the way I'd recommend to lose weight. I'm told that if you're over 70, you can lose 17% of your muscle mass in just two days in hospital so you can imagine the toll nine weeks takes.
The virus finds your weakest areas
It was so debilitating. I was so weak. Just sitting up was the hardest thing. My kidneys were damaged, my heart is arrhythmic and I have just 70% lung function as a result of scarring which doesn't repair. Oxygen doesn't get into my blood properly. I have blood clots on my lungs and elsewhere. My breathing deteriorates over the day. I had mild arthritis and that's accelerated markedly since Covid. The virus seems remarkably adept at going round the body and finding the weakest areas and majoring on those.
I was moved from intensive care to the high care unit and then to a regular ward. By this time, I was desperate to get out of hospital. I persuaded them to discharge me home. I stressed that my wife was a nurse and that I live in a bungalow. Even at this point, I don't think I really understood what I'd had. I'd been out for the entire pandemic. People would talk about lockdown, shielding and social distancing and I didn't have a clue what they were talking about. I had to read about what had been going on on my phone.
My wife was an experienced nurse but I think she was devastated by my frailty. Without her care I'm not sure I'd have survived. She slept in the same room as me on the sofa to make sure I didn't stop breathing.
My immune system has been seriously weakened by antibiotics. I had MRSA (a bacteria that's resistant to many antibiotics) before my leg was amputated and on two further separate occasions when I was admitted to hospital with sepsis. Large quantities of antibiotics on both occasions. And lots more when I was hospitalised with Covid. It means my body is very susceptible to infection. 
My objective is to play tennis again
I've been out of hospital 14 weeks now. I've had brilliant care from the community-based multi-disciplinary rehab team (which includes occupational therapists, physios and so on). Someone came in every day even at week-ends for the first six weeks. They push and push to get you active again. Now I'm attending a weekly gym at the hospital for post intensive-care patients.
I'm also taking part in a research project called the Nottingham Recovery from COVID-19 Research Platform (NorCorp). It's being run by Nottingham University to look at the long-term effects of this disease. They now think there are at least six different clusters of symptoms so different patients need different treatment and recovery paths. Even with only mild symptoms, you can have very serious long-term effects.
Today I'm doing as well as I can. I walk as much as possible using a walking stick or pole depending on the terrain. My fitness objective is to get back to playing a bit of tennis. I'm an optimistic person so I'm looking forward.
This article reflects the experience and the views of the individual. It is not health information from the Men's Health Forum under the terms of the NHS England Information Standard.
The Men's Health Forum need your support
It's tough for men to ask for help but if you don't ask when you need it, things generally only get worse. Especially during a major pandemic like Covid-19. So we're asking.
Men appear more likely to get Covid-19 and far, far more likely to die from it. The Men's Health Forum are working hard pushing for more action on this from government, from health professionals and from all of us. Why are men more affected and what can we do about it? We need the data. We need the research. We need the action. Currently we're the only UK charity doing this - please help us.
Here's our fund-raising page - please chip in if you can.