Laura Willoughby from Club Soda responds to yesterday's blog post on this weekend's Mindful Drinking Festival: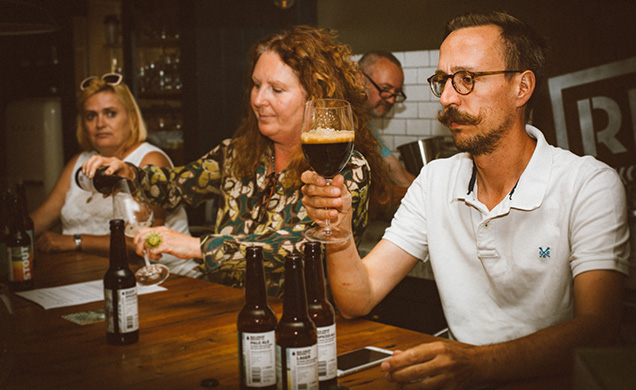 I hate it when people confuse being mindful with mindfulness. They are related words, but in terms of common usage one certainly preceded the other and both are still used now.
The word mindful has been in the dictionary for yonks. It means to be conscious or aware of something or, if you are being a bit more formal, means: "inclined or willing to do something". It can apply to many contexts.
It is no wonder then that more recently it has been used as inspiration to find a way to describe a style of meditation designed for a busy Western audience. Mindfulness, as a thing you do, certainly is about being more conscious and aware. But that act of mindfulness does not have exclusive dibs on the word that it has derived from.
I bet you a pint our festival is mindful
For the Club Soda Mindful Drinking Festivals, we are using the word as intended in the dictionary. We have not added "ness" at the end (as meditation practitioners ourselves we know the difference). We want people to be more conscious or aware of their drinking, and inclined and willing to do something about it.
Which is handy, because our research with our 20,000 members has found that people looking to moderate their drinking habits or going alcohol-free see it as a positive word that encompasses everyone's goal and is not judgmental. They feel more comfortable saying they are a mindful drinker than having no useful word, and their friends assuming they are an alcoholic (which is not only loaded with social judgment, but is also a made up word with no real medical definition).
We  tested it out. Engagement was good, and feedback amongst every type of drinker and the pubs we work with showed the word helps support behaviour change and self-efficacy.
Denying a community its own words is a mindless act
Our journey to finding the right words is probably similar to the journey some of the early marketeers promoting mindfulness went through. A couple of years ago we ran a seminar with the Men's Health Forum about the challenge of building online communities for men. It was fascinating to hear that they had learnt, as we had, that the language men want to use around their mental health and related problems are not the same words that professionals use.
Communities like to find their own language, based on their own lived experience. To deny them that is an act of arrogance. This has been borne out by recent research from Nesta in their Good Help project. It also shows that getting the language right is key to developing effective tools and interventions for self-efficacy.
So like the Men's Health Forum, we let our members dictate the language we use. Out with negative disease-based language of recovery, and in with positive words about building a better life and proactive behaviour change. Our decision to be mindful was mindful.
Mindful stopped us from a legal pickle (or should that be gherkin?)
It is also a word that passed the test of solicitors (we know!). When we built Club Soda Guide, our pub guide for mindful drinkers last year, our original intention was to call it the "guide for healthier drinkers". Positive words, and applicable to anyone, from those giving the booze the big heave ho, to people who were driving tonight, or going to the gym the next morning.
Except we hit a snag; we could not legally use the word "healthier". Why? Well, as we talked about low as well as no alcohol drinks, we couldn't talk of those as being "healthier". Well, we could have tried, but we did not want to get the participating pubs in any trouble. You can't, by Advertising Standards Agency rules, talk about alcohol, however small a amount, in the same context as health.
So the word mindful worked on many levels.
Words have multiple meanings. They will change over time, and new words develop for the same meaning. Whilst the Men's Health Forum blogger thinks that mindful means one thing within his sphere of experience, I have to break it to him that it is not the same for me. The population and experience of people in this country is diverse. We should never take our own experience as the only one.
For example, I don't think "forum" in the context of the Men's Health Forum means your office is some Roman pillared amphitheatre, the dress code is robes, and there is regular fornication with male slaves. But it does mean both, and both meanings are still in use.
There is space to contemplate being mindless
"Mindless" can be applied to how we often act without being deliberate or conscious. When we are drinking without thinking about where, who with, and how we want to drink, just from old habits. It is very common and widely accepted in this country to drink when dealing with our problems (which in time affects our overall mental resilience), or even to drink when we are not enjoying being somewhere (how ridiculous is that?). These are mindless actions. The opposite to being mindful (not mindfulnessless which I assume is what I am doing when I forget to meditate).
For those who care about mental health (which we certainly do, it is the number one issue in our community) this debate is important. Alcohol is a mind altering substance, its effects on your mental health are cumulative. How we drink more mindfully as a society has huge implications for mental health. Mindfulness as a practice and a technique is a popular tool in supporting people both in their mental health, and also in changing behaviours that may have a negative impact on it. We recommend it a lot in Club Soda.
Laura Willoughby - Club Soda