---
Is time the reason men aren't being vaccinated?
Men are less likely to be vaccinated than women.
Beneath the headline figures showing millions being vaccinated, a gender divide is emerging. In the latest edition of the weekly national Influenza and COVID-19 surveillance report published, ironically, during Men's Health Week, we learn that:
56.1% of the population have had dose 1 (53.1% of men and 59% of women)
40.9% have had dose 2 (37.2% of men and 44.7% of women)
In other words, women are 20% more likely to be double-vaccinated than men.
Should we all be throwing our hands up in despair? What is the matter with men? At any given age, they're twice as likely to die of Covid-19 as women and yet they're still too daft to get vaccinated.
Working age
Except it's not quite that simple. How many men know of their increased risk? We may have been banging on about it but the government and NHS have hardly mentioned it. However, I wonder if it's the ages at which men are not being vaccinated that tell the real story.
The official charts below show men and women over the age of 64 are vaccinated at pretty much the same rate. The numbers for men vaccinated start reducing with age. Are younger men just not bothered? Well, the evidence is that women are more likely to be vaccine-sceptic than men so that's unlikely to be the reason.
Or is it the fact that many people under 65 are working and that men are far more likely to be working full-time. Among people of working age, women are almost 25% more likely to be double-vaccinated than men.
There's also anecdotal evidence of people being asked to travel long distances for their second jab.
I'm double-vaccinated. Both my shots were given on a Friday morning. Fine, for a freelance like me. Not so easy in many other jobs. At what times is your local vaccine hub open?
Jim Pollard,
Editor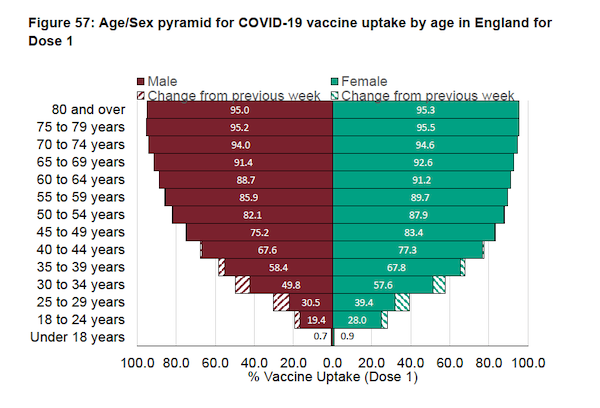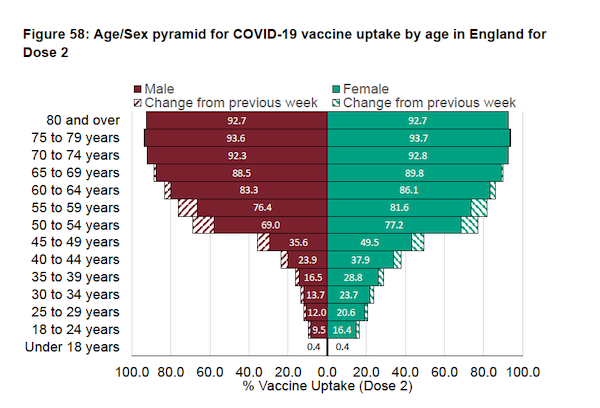 The Men's Health Forum need your support
It's tough for men to ask for help but if you don't ask when you need it, things generally only get worse. Especially during a major pandemic like Covid-19. So we're asking.
Men appear more likely to get Covid-19 and far, far more likely to die from it. The Men's Health Forum are working hard pushing for more action on this from government, from health professionals and from all of us. Why are men more affected and what can we do about it? We need the data. We need the research. We need the action. Currently we're the only UK charity doing this - please help us.
Here's our fund-raising page - please chip in if you can.