---
NHS services online
Think you can't get the NHS online? Think again.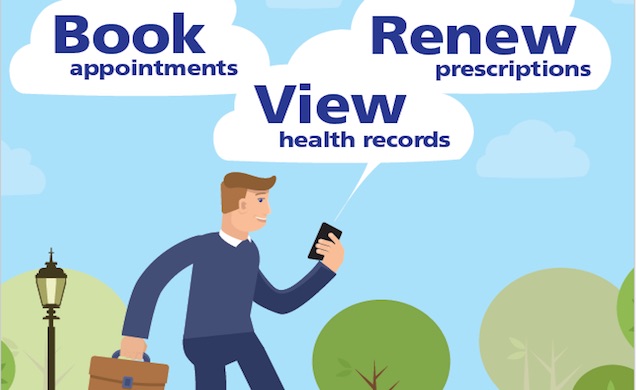 What NHS health care options are available online?
More than you might think. Nearly all GP practices now let you book GP appointments, order repeat prescriptions and access a summary of your medical record online.
The NHS's ambition is that by 2018 every citizen will be able to access their full health records at the click of a button: every GP visit, every hospital visit, every prescription, every test and details of adverse reactions and allergies.
How can I use these services?
Talk your GP practice. Generally, you will need to fill in a short form and bring proof of your identity into your GP surgery so that they can provide you with logon details and with a password.
I'm a bit worried about my records being online
The NHS promise that only you will be given access to your record. They say: 'When you sign-up to Patient Online, you will be given a secure login and a password. These details are unique to you and, along with your personal information, will not be shared with anybody else unless you choose to let them see it. This is not different to how you would access other online services, for example banking.'
Your patient information is stored on the IT system at your general practice and of course in the traditional, paper records.
You should never be forced to give access to anyone else but you might choose to let a carer access your records, for example. GPs will look at each request for access to a record and do everything they can to make sure they are genuine and not being made under pressure. They are able to refuse or withdraw access to a record if they have concerns.
What about finding where local NHS services are?
There are number of places you can do that. Our favourite is our Man MOT service. You can look up services or, even better, text chat or email our NHS GPs. 
There's more information about all NHS services online at NHS Patient Online.
There are also commercial sites such as Zesty offering to find local health professionals and even book you in.
The Men's Health Forum need your support
It's tough for men to ask for help but if you don't ask when you need it, things generally only get worse. Especially during a major pandemic like Covid-19. So we're asking.
Men appear more likely to get Covid-19 and far, far more likely to die from it. The Men's Health Forum are working hard pushing for more action on this from government, from health professionals and from all of us. Why are men more affected and what can we do about it? We need the data. We need the research. We need the action. Currently we're the only UK charity doing this - please help us.
Here's our fund-raising page - please chip in if you can.