---
'Talking can be life-saving'
Samaritans discuss how Covid-19 and 'lockdown' is affecting men.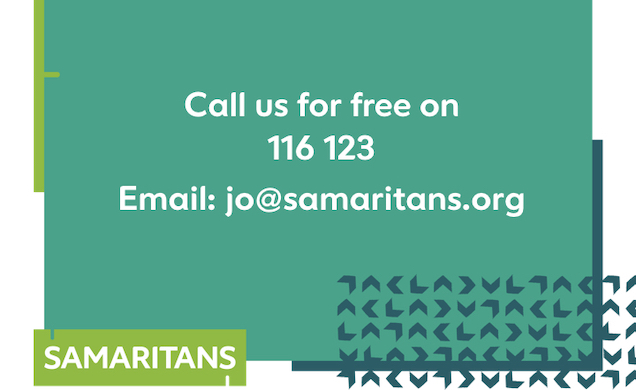 Samaritans is currently providing emotional support to people over 7,000 times a day via phone, email and letter. The organisation estimates that one in three contacts relate to coronavirus in one way or another.
Joe Potter, Samaritans Policy Manager said: 'Suicide is complex and rarely caused by one thing. We know there is a range of psychological, social, cultural and economic factors that influence suicide risk. Our 2012 Samaritans Men and Suicide report found that suicide and deprivation are closely linked and that factors such as relationship breakdown, unemployment and not having the same type of social network as most women, have a role in increasing the risk of suicide for middle-aged men. These problems are also felt more acutely at this life-stage, as people have typically invested a great deal into their work and relationships, and the possibilities for making changes in these areas are limited.
'From our research, we also know that men are often taught, through childhood, to embody a masculine ideal rather than focusing on social and emotional skills. The "healthy" ways men cope might involve using exercise or music to manage stress or worry, rather than talking, and their relationships may be based more around shared activity than speaking about emotional issues.
The power of human connection
'Lockdown will be increasing isolation and disconnection for many of these men, which is likely to exacerbate their problems. In a recent study, men who are struggling told Samaritans that social connection and meaningful activity were crucial parts of any support service they might access. It's important that these principles are central to any service targeting this group.
'Now more than ever, it is important that we don't lose the power of human connection. We might have been physically isolated for months and this has taken a toll on many particularly those who are struggling, but that doesn't mean that we have to be socially isolated. Talking can be life-saving – whether it's with a colleague, a family member, friend or a confidential helpline like Samaritans.'
Matt, who is a Samaritans volunteer and team leader said: 'At our branch in the south of England, there are coronavirus-related calls. A lot of first-time callers are talking about it. But predominantly calls cover the same issues as before the pandemic.
'Open prison'
'There's more loneliness and isolation even among people who usually have support networks in place. For very active people, they're struggling with not working and not seeing people. They talk to friends on the phone but there's no interaction. You put the phone down and you're alone again. One caller used the term "open prison". Some really busy people say they've realised how small their world actually is.
'Callers are having to deal with the things happening in their lives on their own without the support networks they had pre-Covid. For example, people who have been bereaved and have to deal with the death and the funeral with no interaction with family and friends. Being alone means you can't properly grieve, people say. Grief is a collective thing.
Work and financial worries
'Work is an issue. People are losing jobs and then finding themselves alone when all their socialising was through work.
'This links in to financial worries such as people who have been furloughed struggling because they know it won't last and they may then lose their jobs. People are worrying about about what might happen as well as what has already happened. For some callers, money worries have led to them having to give up the internet which also means giving up a key communication tool. This in turn increases isolation.
'For people with longer term mental health conditions, they're now being provided with support online rather than in person and that's difficult. It's not the same as real contact.'
Whatever you are going through, you don't have to face it alone. Call Samaritans for free on 116 123, email jo@samaritans.org or visit www.samaritans.org to find out more information.
The Men's Health Forum need your support
It's tough for men to ask for help but if you don't ask when you need it, things generally only get worse. Especially during a major pandemic like Covid-19. So we're asking.
Men appear more likely to get Covid-19 and far, far more likely to die from it. The Men's Health Forum are working hard pushing for more action on this from government, from health professionals and from all of us. Why are men more affected and what can we do about it? We need the data. We need the research. We need the action. Currently we're the only UK charity doing this - please help us.
Here's our fund-raising page - please chip in if you can.