---
Yesterday on the Covid-19 front-line
Charlie, a nurse practitioner describes another tough 12 hour shift with male patients on a Covid-19 ward in a London hospital.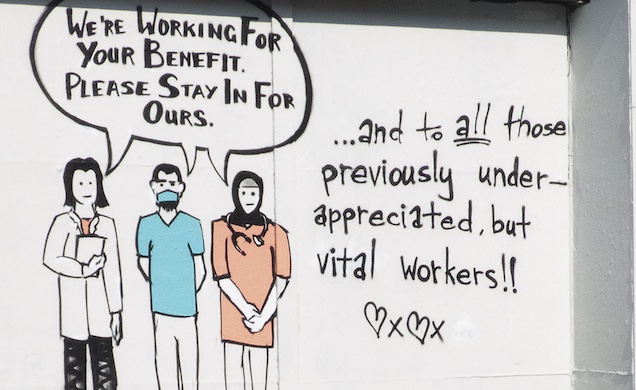 I usually work in an out-patients clinic and I volunteered to be redeployed to deal with Covid-19. I wanted to be able to help. There's no point sitting in out-patients twiddling your thumbs.
On the Covid ward, patient numbers fluctuate between 12 and 20. We have some single rooms and some rooms of four.
We're the step before the intensive care unit (ICU) or the step down for people getting better. It's difficult to predict which means staffing levels are difficult to manage. The consultants are not sure if we've reached the peak or not. We need to save beds, in case they're needed.
It's scary but I like being of use
I haven't been on a ward for twenty years. We were all terrified when we were redeployed but the existing staff on the ward have been fantastic, very calming. I did an online course mostly in my own time, reading up on lungs and non-invasive ventilation (NIV) and so on. It takes a few hours. It's scary but I like being able to be of use rather than just being scared.
Yesterday, me and another deployed nurse were looking after a room of four men - two in the 50s, two in their 60s. We're allocated patients depending on the numbers on the ward. Two needed a lot of care. One man is very overweight. Another has had a stroke. One is depressed.
Not enough PPE
We change into scrubs and then, to go on the ward, you put on a full-length gown plus a face mask and googles or visor. You then add gloves and apron before entering a room. Coming out, you remove the gloves and apron and wash hands before putting alcohol on your hands outside. It's quite a routine.
We don't have enough personal protective equipment (PPE) really. You can't just use it as you'd like. Last night they had to go and find PPE on another ward. You should change gown more often but we tend to have to keep it on all day. One time I said I'd ripped my gown so that I could change it at lunchtime after patients had been coughing on it. I change mask about every four hours. But not everybody does.
Wearing PPE is absolutely exhausting and claustrophobic. We all feel totally drained at the end of our twelve and a half hour shift. Many complain of headaches too which is probably partly dehydration as well as being stifled all day.
After handover from the night staff, I look into the room to say hello to the patients. We deal with their drugs. Some are on intravenous drips. We help with washing, catheters, nasogastric tubes and so on. We do observations of blood pressure, heart and breathing every two to four hours. Hourly sometimes.
You can deteriorate suddenly
With Covid-19 you can deteriorate very suddenly so we need to be alert to small changes. That's difficult from behind a closed door. So we are in the room a lot. You need to talk to someone to get an idea of how they really are. It's important for patient mental health too. We try to relax the patients. They're scared and can't talk to each other. If you have low oxygen saturation you need to be prone, ideally on your belly.
There was a moving moment that shows how important communication is. The stroke patient spoke to his family for first time since the stroke. It was on the doctor's phone. We'd not seen much reaction from him but he started crying. It was tough but uplifting at the same time.
Although we're not the ICU, we have seen deaths on the ward. Patients who are fine suddenly get worse. That's hard to make sense of. We're not used to seeing anything like this. I used to work in palliative care so I'm not scared of death but this is far more sudden sometimes.
It's very strange and often seems to happen early evening. One of the men yesterday was stable on a low percentage of oxygen through a nasal cannula and there was sudden change in his breathing and heart for no obvious reason. In fact, he was the patient with the fewest underlying issues. I alerted the doctor and he was reviewed and had a chest X-ray. The infection had gotten worse and this man was later commenced on high dose oxygen followed by continuous positive airway pressure (CPAP).
In patients with respiratory failure, we use NIV to deliver oxygen therapy with less risk of infection and improved survival. If there isn't improvement and the patient is finding breathing too tiring, we move up CPAP. If that doesn't help, the next step would be intubation and ventilation in ICU. Ideally we wouldn't use these treatments as you're supposed to do it in a negative pressure room and our ward isn't. The negative pressure stops the water-droplets flying around.
People aren't rude now
We're not offering the ideal care package because it's all last minute. There are a hundred issues could have been better. The NHS is underfunded and not managed the best in some areas. Nobody can deny that. If all the people hospitalised with Covid needed to be in ICU we couldn't cope. You can't train an ICU nurse in a half day study course.
But NHS staff just get on with it. They work hard and don't complain. Morale is good. It's great when outside caterers bring food in. We had some birianis yesterday. It makes your day that others are helping out as they can. Before, when I was in clinic, patients were often rude and receptionists abused everyday. We don't get that now. People might appreciate the NHS better after this. Some will, anyway.
I love the Thursday night clapping. It seems that this is one thing the whole nation can actually agree on. I know there's some hypocrisy. I can't stop the government ministers clapping. All I can do is not vote for them. Perhaps they'll learn from this that you can't cut, cut, cut. Can Boris Johnson really deny the NHS funding now? Its scandalous what's been done with the health service - hopefully, this has hit home.
Staffing is the most stressful thing
Long-term, I hope the government will invest in people. Staffing is the most stressful thing in hospital. One person off sick, every patient needs to be reallocated and staff are run ragged. You go home late, miss lunch and can't even go for a pee. That happens all the time. It must be better to have one extra member of staff than to keep using agency because you have too few.
Short-term, we need clarity on strategy and enough PPE. We shouldn't be wearing the same stuff all day. We should have enough to change as often as we need. And we should talk to people as adults. Men need to be told they're at additional risk. If you're, say, a Bangladeshi man with diabetes you need to be told of the risk clearly and treated like an adult.
It's not all bad. My son is ecstatic that GCSEs have been cancelled. And I've managed to get the garden sorted out. But seriously, I love to see the dads out with their kids for exercise - hopefully when this is over we'll all reevaluate what life's really about.
This article reflects the experience and the views of the individual. It is not health information from the Men's Health Forum under the terms of the NHS England Information Standard.
MAIN IMAGE: Please Stay In by Sam Saunders licensed under CC BY-SA 2.0
The Men's Health Forum need your support
It's tough for men to ask for help but if you don't ask when you need it, things generally only get worse. Especially during a major pandemic like Covid-19. So we're asking.
Men appear more likely to get Covid-19 and far, far more likely to die from it. The Men's Health Forum are working hard pushing for more action on this from government, from health professionals and from all of us. Why are men more affected and what can we do about it? We need the data. We need the research. We need the action. Currently we're the only UK charity doing this - please help us.
Here's our fund-raising page - please chip in if you can.