---
CJ: 'Realising I am trans has been the best thing in my life'
CJ Bruce on identifying as 'genderqueer' and preferring they/their pronouns.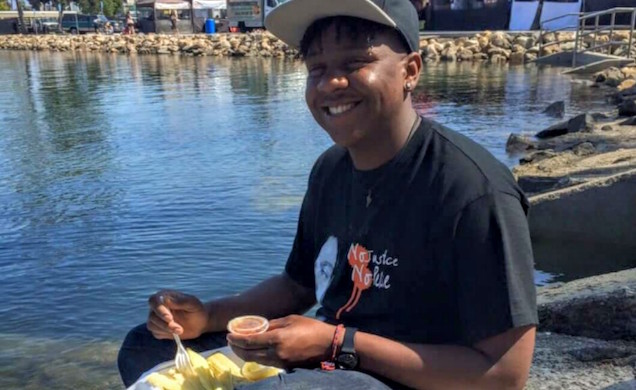 I grew up in Trinidad and Tobago where I lived until I was 14 years old, at which point I moved to London with my family. As a kid in the Caribbean, I had little idea what LGBT meant. The only thing I knew for certain about being gay was what I'd heard at church, and that was that it was a sin. 
What I also knew for certain was that I didn't feel like a girl.
I learned pretty early on that I had to just accept it, but I was vehemently opposed to the idea and had no qualms about complaining about it to anyone who asked. When I turned 12, one of my classmates asked me if the reason I kept saying I wanted to be a boy was because I fancied girls. I already knew that I fancied girls (although I hadn't yet connected it with the word 'gay'), but I'd never even considered that who I fancied might be linked to my feelings about gender. Of course, we all know that gender identity and sexuality have nothing to do with one another. However, I latched on to this idea as finally I had a way to explain my weirdness.
My chest was a source of discomfort
I discovered online forums and other people who identified as gay. This was key to me accepting myself because I finally knew I wasn't just bad or wrong – other people felt different too and they were perfectly fine. If I had found a transgender online forum, I'm sure I would have figured things out much quicker, but I'd never even heard the word before!
So I identified as a lesbian for many years after that, but my body (specifically my chest) was a source of much discomfort. Whenever I played video games online, I made my character as neutral as possible so that my online friends couldn't tell what gender I was. I didn't understand that I could express myself so honestly in real life too!
The turning point of realising I was trans came from my doctor. I could not bear my chest any more, and I'd heard that you could have breast reductions on the NHS so I booked an appointment with my doctor and told him how much I hated my chest. I was lucky enough to have a doctor who actually LISTENED to exactly what I was saying and understood, even if I didn't. He referred me to a psychiatrist. I still did not know that he suspected I might be trans, but I went to the appointment anyway.
I thought transgender was an accusation
After a (very confusing!) hour of answering questions about my childhood and my feelings, the psychiatrist took his glasses off and announced that I was almost certainly transgender, and asked if I knew what that meant. I was shocked and horrified by what I thought at the time was an accusation! I had seen enough TV to know that transgender people were the butt of every joke. How dare he put me in that category?
A few friends spoke to me and confessed that they had also suspected that this was the case, and suggested that maybe I find some support groups and meet other trans people. My first youth group session with Gendered Intelligence was life changing! There were other people, kids around my own age, who were just being themselves and being normal!
Over the next year or so I would discover chest binders, try out different pronouns and realise I was happiest with gender neutral ones, have my first ever haircut, and become more confident and comfortable in myself than I could ever have imagined possible.  
I feel completely happy and healthy
I started working really hard and saving every penny to afford my top surgery. Someone suggested I set up a crowdfunding page and helped me do it. I publicly came out to everyone on my Facebook, all my friends from every school I'd ever been to etc. The response was overwhelming. I absolutely did not expect the hundreds of messages of support and offers to help. I am eternally grateful to all my friends and my siblings who supported me throughout that time.
My faith is still important to me, and I have found a church I feel at home in. My family is still struggling to accept this part of me and to use the correct name and pronouns, but they are still here. This is more than I imagined would be the case, and more than some people have, and I am grateful for it. Realising I am trans has been the best thing for me in my life. My mental health is better than it has ever been at the point of writing this, and for the first time in my life I feel completely happy and healthy.
There's much more for those interested in transition in the Men's Health Forum publication Your Body, Your Health
This article reflects the experience of the individual. It is not health information from the MHF under the terms of the NHS England Information Standard.
The Men's Health Forum need your support
It's tough for men to ask for help but if you don't ask when you need it, things generally only get worse. Especially during a major pandemic like Covid-19. So we're asking.
Men appear more likely to get Covid-19 and far, far more likely to die from it. The Men's Health Forum are working hard pushing for more action on this from government, from health professionals and from all of us. Why are men more affected and what can we do about it? We need the data. We need the research. We need the action. Currently we're the only UK charity doing this - please help us.
Here's our fund-raising page - please chip in if you can.