---
Leo: 'Don't you have enough going on?'
Leo Collins on being trans and having cerebral palsy.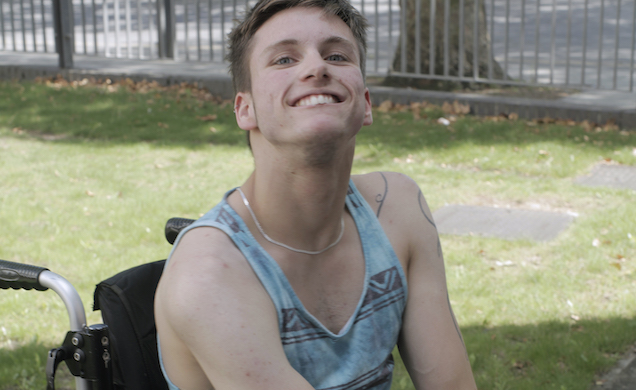 I began my transition over three years ago and that was when I realised my true sexuality. I think it was because I finally felt happy in my body so I felt comfortable being a man with a man! 
I thought being trans and having Cerebral Palsy, it was going to be a tall order to get a date let alone anything else? I met my partner two years into my physical transition so I was a lot more confident with how I looked. My disability and the fact that I am trans has never been an issue in our relationship and at the moment I am content with just chest surgery. 
When I was a kid I kind of felt genderless, I enjoyed my dad treating me like a boy and I always wore boys clothes. My parents didn't really mind my chose of clothes until I was in my late teens when I suppose I should have 'grown out of it'.
It was only when I began uni that I discovered that I preferred wearing male boxers and no crop top that I was made to wear throughout school. It was actually when I was watching the Channel 4 TV programme My Transexual Summer that the penny finally dropped! I remember thinking 'that's actually how I feel'. 
Most don't have a problem
People who do not know me and do not have much knowledge about how to communicate with somebody with a disability, cannot even understand that I may be gay let alone transgender!
I have noticed that some of society tend to believe having a disability is enough of a complication and don't understand that I needed to change my gender. Somebody once said to me, 'don't you have enough going on?' My answer to this is that obviously I did not choose to be born in the wrong body, any more than I chose to be disabled. 
Before I met my partner, I went through a period of using dating and hook up apps. At the beginning I believed it would be difficult to get anywhere having a double whammy, a disability and being trans. In actual fact I found that if I was open and up front with people, the majority did not have a problem with anything! 
There's much more for men interested in transition in the Men's Health Forum publication Your Body, Your Health
This article reflects the experience of the individual. It is not health information from the MHF under the terms of the NHS England Information Standard.
The Men's Health Forum need your support
It's tough for men to ask for help but if you don't ask when you need it, things generally only get worse. Especially during a major pandemic like Covid-19. So we're asking.
Men appear more likely to get Covid-19 and far, far more likely to die from it. The Men's Health Forum are working hard pushing for more action on this from government, from health professionals and from all of us. Why are men more affected and what can we do about it? We need the data. We need the research. We need the action. Currently we're the only UK charity doing this - please help us.
Here's our fund-raising page - please chip in if you can.