---
Is there an elephant in your bedroom?
Tracey Cox explains how to discuss erection problems.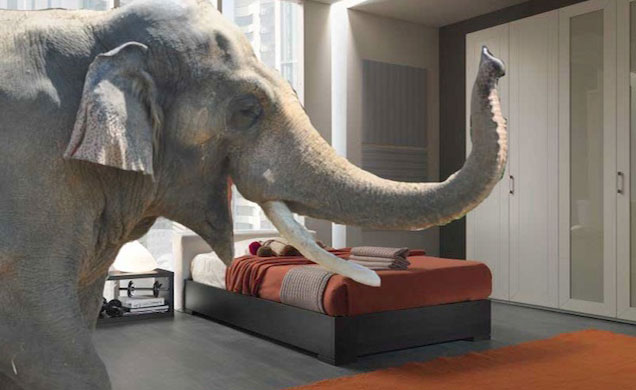 Sometimes it just doesn't work out like you want it to. The bedroom stuff. 
Pharmaceutical company Lilly interviewed men with erection problems and their partners in eight different countries. Three quarters of them said their problems reduced their enjoyment of their relationship. But they also found that 41% of women and 35% of men waited more than six months before discussing the issue with their partner.
It doesn't have to be like that.
Erectile dysfunction (ED) occurs when you're sexually excited and up for it but the penis does not fill with enough blood for you to get or maintain an erection. It's common. One study suggests it affects over half of all men between 50 and 70 years of age. If you have an enlarged prostate or other 'lower urinary tract symptoms' (LUTS) that cause peeing problems, erection difficulties often follow. An international study found that erection problems have been reported by over 65% of men with moderate to severe LUTS.
A 4 page PDF that will improve your sex life
There are solutions and the way to find them is to talk about ED with your partner. The Men's Health Forum have teamed up with Lilly and sex therapist Tracey Cox to produce a simple four page guide to help you do this. ED need no longer be the elephant in the bedroom.
MHF CEO Martin Tod said: 'All around the world, men's erection problems are causing a significant impact not just on their own lives, but on the lives of their partners. Perhaps knowing this may motivate some men to take action and talk to their partner and their doctor about their ED and prostate symptoms. ED can also be a symptom of other problems such as heart disease and diabetes, so even if it isn't causing problems in your relationship, it's worth checking with your GP.'
This PDF reflects the experience of the individual. It is not health information from the MHF under the terms of the NHS England Information Standard.
Tracey Cox: the elephant in the bedroom PDF (PDF, 1.1mb)