---
The CAN DO Manual is here
The Forum's free manual for Men's Health Week 2022 is the CAN DO Manual.
It's nothing more or less than 275 brilliant ideas from our men's health champions to help all men feel better.
As we emerge from the pandemic lockdowns and restrictions, mental health has never been more important. Based of the five ways to wellbeing, the Forum's CAN DO challenge encourages men to CONNECT, Be ACTIVE, NOTICE, DISCOVER and OFFER. This manual pulls together ideas from a very special group of people who have risen to this challenge - our men's health champions.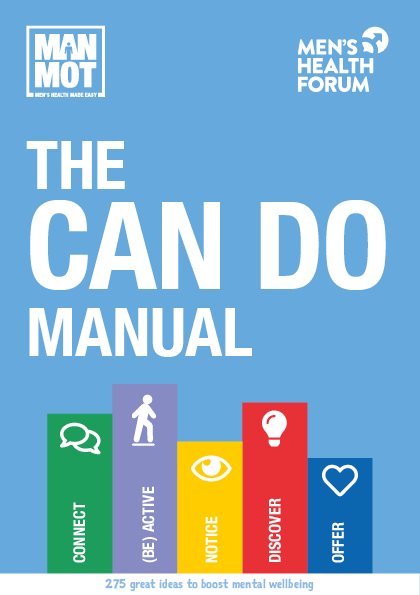 The Men's Health Forum need your support
It's tough for men to ask for help but if you don't ask when you need it, things generally only get worse. Especially during a major pandemic like Covid-19. So we're asking.
Men appear more likely to get Covid-19 and far, far more likely to die from it. The Men's Health Forum are working hard pushing for more action on this from government, from health professionals and from all of us. Why are men more affected and what can we do about it? We need the data. We need the research. We need the action. Currently we're the only UK charity doing this - please help us.
Here's our fund-raising page - please chip in if you can.