---
The only diet that always works
Dead easy. All you need is a fridge and two plates.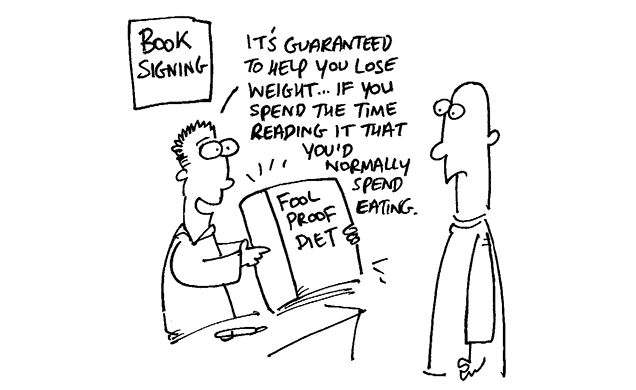 Men often store fat around the waist where it is associated with higher blood pressure, cholesterol, diabetes and heart disease. But if you don't want a Diet with a capital D, what do you do?
First, assess the size of the problem. Find a tape measure and measure your waist. Measure around your middle at a point mid-way between the bottom of your ribs and the top of your hips (usually, this is the level of the belly button).
Men have a higher risk of health problems if their waist size is more than 94cm/37 inches. For Asian men, it's lower: 90cm/36 inches.
Trouser waistbands are not a good guide if your belly is hanging over the top (in which case a 36-inch waist might disguise a real measurement of 40+).
Just losing half a stone could significantly improve your health. And, contrary to popular belief, there is one diet that works every time:
Prepare your normal meal and plate it up as usual. 
Remove half the food and place on another plate in the fridge or freezer for another day. 
Easy enough? This approach cuts your cooking time, calorie intake and food expenditure in half. If it's still too much hassle, have two roast potatoes rather than four.
Still too much hassle? Try the soup option: braise chopped onion in a little oil for five minutes. Add water and your favourite veg chopped up. Simmer until soft and zap it with the blender. Cream it with soya milk. Flavour with spices and/or garlic. Lasts days. Plenty of recipes online. 
Home-made is best as shop-bought soups are often high in salt and sugar.
It's about portion control. The amount you are currently eating alongside your current exercise levels has resulted in weight gain. Simple as that. You need to eat less and exercise more. This diet deals with the first bit in the easiest way.
We don't currently post comments online but are always keen to hear your feedback.
This content is wholly based on the Men's Health Forum's man manual Eat. Drink. Don't Diet. which was prepared in line with the NHS England Information Standard of which the MHF is a member. Follow the links for more information or to buy copies.
Date published 19/06/15
Date of last review 28/02/15
Date of next review 28/02/18

The Men's Health Forum need your support
It's tough for men to ask for help but if you don't ask when you need it, things generally only get worse. Especially during a major pandemic like Covid-19. So we're asking.
Men appear more likely to get Covid-19 and far, far more likely to die from it. The Men's Health Forum are working hard pushing for more action on this from government, from health professionals and from all of us. Why are men more affected and what can we do about it? We need the data. We need the research. We need the action. Currently we're the only UK charity doing this - please help us.
Here's our fund-raising page - please chip in if you can.