---
Bowel Cancer FAQs
You can beat this cancer by not being embarrassed to talk about it.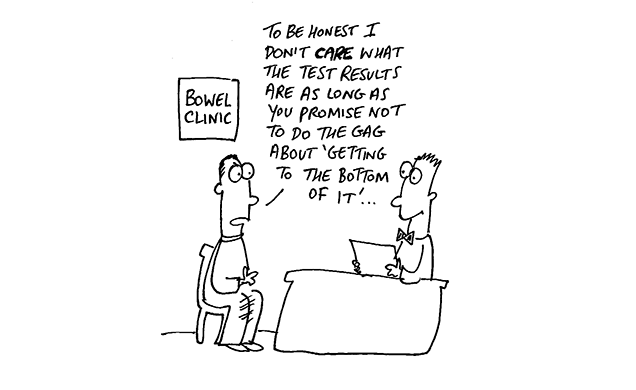 What is bowel cancer?
Bowel cancer is one of the most common types of cancer in the UK. There are 40,000 new cases every year. Nine in ten cases are in people over 60. 
You're also at increased risk if you have a family history of the disease, smoke, drink, have a diet high in fat and low in fibre, are overweight and don't exercise.
What are the symptoms?
Look out for:
Bleeding from your back passage and/or blood in your stools (your crap)
A change in bowel habit lasting for 3 weeks or more especially to looser or runny stools
Unexplained weight loss
Extreme tiredness for no reason
A pain or lump in your stomach area. 
Is there screening?
Yes. If you're aged 60-74, there is a screening programme for bowel cancer. Ask your GP about it. In England there's also a test at 55. See Screening for older men for more information.
Men with bowel cancer:
We don't currently post comments online but are always keen to hear your feedback.
This content is wholly based on the Men's Health Forum's The Man Manual which was prepared in line with the NHS England Information Standard of which the MHF is a member. Follow the links for more information or to buy copies.
Date published 19/06/15
Date of last review 30/04/15
Date of next review 30/04/18

The Men's Health Forum need your support
It's tough for men to ask for help but if you don't ask when you need it, things generally only get worse. Especially during a major pandemic like Covid-19. So we're asking.
Men appear more likely to get Covid-19 and far, far more likely to die from it. The Men's Health Forum are working hard pushing for more action on this from government, from health professionals and from all of us. Why are men more affected and what can we do about it? We need the data. We need the research. We need the action. Currently we're the only UK charity doing this - please help us.
Here's our fund-raising page - please chip in if you can.