---
Domestic violence: on the receiving end?
Are you being abused?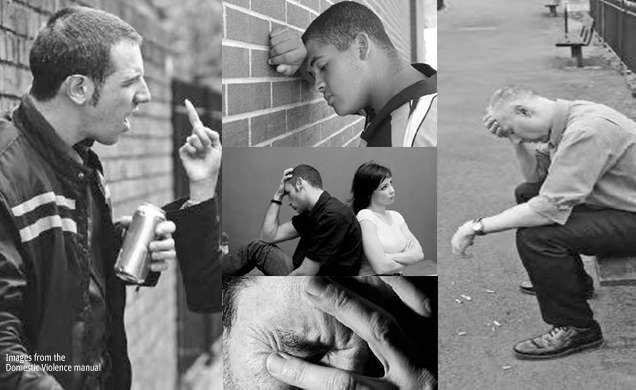 What is domestic violence?
Domestic violence can happen in any relationship and can happen to anyone. What is it?
How do I know if I'm being abused?
Each person's experience will be unique but if you are in an abusive relationship you may feel some or all of the following:
Isolated. You may be afraid to tell anyone 

what is really going on for fear of being 

disbelieved or ridiculed. Men who are being 

abused may think that they will not be taken 

seriously or be unsure of whether they can 

actually be a 'victim' of domestic abuse.

Confused about why a person you love can 

treat you this way, or confused because 

sometimes they are loving and kind.

Confused about what they are saying with 

messages like 'I hate you' or later on 'don't 

leave me'.

Frustrated and sad because you feel that 

you have tried everything and still cannot 

sort the relationship out.

Depressed or anxious, humiliated by the 

ongoing abuse.

Constantly on edge and worried about 

how your partner will react.

Threatened by the behaviour of your 

partner.

Guilty about leaving them, scared that you 

will not be able to find a new partner and live 

alone. Or scared of what will happen to your 

children and your relationship with them.

Worried about financial security if you 

leave.

Afraid of the repercussions if you take any 

action – like continued violence, becoming 

homeless, or losing contact with the 

children.

Feeling paralysed – whatever you do will 

only make things worse
​
But m
en aren't victims of 
domestic violence
Not true. Many men who experience domestic abuse from a current or former partner find it difficult to get support not least because it can be hard for men to acknowledge and discuss their experiences. This silence can be due to any number of reasons, including love for a partner, embarrassment or shame and concern for any children, or simply not knowing where to go.
Even so, it is vital you seek help if you are a victim of domestic abuse or are becoming one. Do not suffer in silence as there are people who can help you to live in a safer environment that is free of violence and abuse.
Shouldn't men be able to 
handle it?
No one should have to live with violence, fear or abuse.
It is not true that men who experience domestic abuse are not 'real men'.  Domestic abuse is about power and control of one person over another. It can happen to any man, in both heterosexual and gay relationships and does not indicate that the man is 'weak' or 'ineffectual'.
My abuser cannot help it
There are many excuses given for violence and abusive behaviour: alcohol, stress, drugs, hormones, oppression, the inability to express feelings in any other way, anger, a traumatic childhood. But domestic abuse is chosen behaviour and there are no excuses for one person treating another in an aggressive and bullying way.
I try to ignore it
Ignoring it will not make it go away
Men who experience domestic abuse may try different techniques to cope. Coping strategies include adopting an 'I can handle this' attitude, being careful about what you say, when and how you say it. You may have given up doing anything likely to upset your partner, adapting your behaviour to do what they demand such as:
Sleeping somewhere where you feel safer, 

including the car, hostels or at friends.

By staying late at work to avoid going 

home.

Using drugs or alcohol.

Leaving home.
Coping may make life temporarily easier but it is unlikely to stop the abuse.
What can I do?
Recognising that you are in an abusive 

relationship is an important first act. 

Things will not change for the better if you 

do nothing.

Keep a record of dates and times of 

incidents.

Report the violence to the police – visit 

your local station and ask to speak to a 

Domestic Violence Officer in confidence.

Seek medical attention for any injuries – do 

not cover up the true cause.

Seek legal advice.

Tell trusted family and friends what is 

going on.

Make safety arrangements such as 

organising a safe place to go, changing 

your telephone number and locks.

Protect the children.

Do not be provoked into retaliating, or you 

could find yourself being arrested.

Talk over your situation with one of the 

national or local domestic violence support 

agencies mentioned here.
​Who can help?
All of these agencies are confidential and have trained staff and volunteers who can listen to you, help your talk through your situation and work out what you want to do next.
Men's Advice Line
This is a help-line in England and Wales providing support for male victims of domestic violence. There is lots of useful information on their website and they also have language and translation services. The helpline also provides support to families and friends of men who are victims of domestic violence.
0808 801 0327 (free from most landlines 

and mobile phones)
Broken Rainbow
Support for gay men, lesbians, bisexuals and transgender people suffering domestic abuse in the UK.
Survivors UK
A national organisation providing information, support and counselling for men who have been raped or sexually abused. Thousands of men contact them every year and their website is a great resource. They also have a national helpline.
0845 122 1201 (7pm to 10pm 

Mon/Tue/Thur)
Victim Support
Victim Support is the national charity which helps people affected by crime. They provide free and confidential support to help you deal with your experience, whether or not you report the crime.
The Samaritans
If you think you might benefit from confidential emotional support then the Samaritans are here for you. You do not have to be suicidal to contact them. The Samaritans will not judge you if you call. The Samaritans understand that sometimes it can feel difficult to pick up the telephone.
Can the NHS help?
The NHS is working to ensure that there is a good level of knowledge about domestic violence and the support that is available locally through community pharmacists, general practitioners, practice nurses, accident and emergency departments and other front line services. If you present at any of these services you should be helped to find the support you need. Conversations with healthcare professionals are confidential and the healthcare professional should talk to you before they contact any services or support agencies. They will not discuss what you have told them with your partner unless you explicitly tell them to. 
We don't currently post comments online but are always keen to hear your feedback.
The Men's Health Forum need your support
It's tough for men to ask for help but if you don't ask when you need it, things generally only get worse. Especially during a major pandemic like Covid-19. So we're asking.
Men appear more likely to get Covid-19 and far, far more likely to die from it. The Men's Health Forum are working hard pushing for more action on this from government, from health professionals and from all of us. Why are men more affected and what can we do about it? We need the data. We need the research. We need the action. Currently we're the only UK charity doing this - please help us.
Here's our fund-raising page - please chip in if you can.