---
Domestic violence: you dishing it out?
How to avoid being an abuser.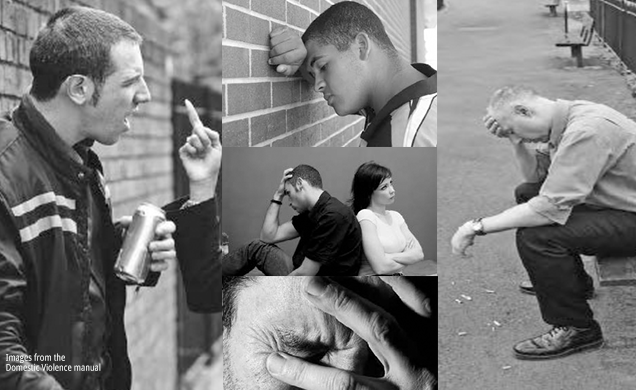 What is domestic violence?
Domestic violence can happen in any relationship and can happen to anyone. What is it?
​I am inflicting domestic violence
Victims of domestic abuse are not the only ones who need help. It takes strength to admit that you are abusing your partner and courage to change.
Recognising that your actions are damaging both your partner and your relationship is the first step to breaking the cycle of domestic violence. Some perpetrators have experienced abuse themselves and it can be challenging to recognise that you are now in the role of the abuser and that:
You only need to abuse once to be an 

abuser.

The impact of abuse doesn't stop when 

you do.

However, you can stop and it is vital that 

you choose to do so.

Abuse affects children, whether they see it 

or not.
There is help and support for abusers and the sooner you get help the better it is for both you and your partner.
How do I stop?
Step 1
Recognise that you are abusive in your 

relationship.

Ask youself if your partner is frightened of 

you?

Is your relationship suffering because of 

your behaviour?

Domestic abuse comes in many forms, but it 

is always about control – forcing your partner 

to do what you want, when you want.
Step 2
Recognise that your abusive behaviour 

affects your whole family.

Violence and abuse have a devastating 

effect on children. You may think that your 

children do not know what is going on 

because you are not abusive in front of 

them, but they will hear the abuse and 

sense the tension in the family. There is a 

lot of evidence to show that children are 

harmed by abuse even if they do not 

witness it. Alternatively they could be 

caught in the crossfire or may intervene to 

protect your partner.
Step 3
Choose to stop.
Decide that you no longer want to control 

and abuse. Only you can take control over 

your own behaviour and learn not to be 

violent and abusive whatever the situation.
Step 4
Take responsibility for your behaviour and 

for the abuse. Stop blaming your actions 

on your partner or on anything else, such 

as drink, drugs, stress or unemployment.

Do not minimise your behaviour by 

thinking that it isn't too bad. How bad 

does it need to be before you do anything?
Step 5
Seek help.
You can promise yourself over and over 

again that it won't happen again, but it 

probably will if you do nothing more. Do 

something before the next time.
How do I spot the warning signs?
Be aware when things are heating up and 

when you are getting into a situation 

where you may be abusive towards your 

partner.

Make a note of your sore spots. These may 

be typical situations when you have been 

abusive before.

Think about what is happening to you 

physically as you begin to become violent 

and abusive – your physical warning signs.

Think about what you begin to do. Do you 

point your finger, close your fist, pace up 

and down, shout, glare, interrupt, go 

quiet, issue orders, get right up close?

Watch out for feelings that come just 

before you become abusive or violent. Do 

you feel resentment? Anger? Trapped? 

Guilty? Upset? Hurt? These are your 

emotional warning signs.

Think about the negative things that you are 

saying to yourself as you get closer to 

being abusive – these are your mental 

warning signs. These will be negative 

things about your partner, things to justify

your actions such as 'he/she is doing this 

deliberately.'

Note also the things that you do not say to 

yourself such as how your partner is 

feeling, or trying to understand or listen to 

what your partner is saying. Remember – it 

is never too late to make another choice

You can walk away.
Right up to the moment you are abusive or 

violent, you can choose to do otherwise.
​What is
 a time out?
Time out is the most basic alternative to being violent – if you are not near to your partner you cannot hurt or abuse them. It gives you space to calm down and reflect on your behaviour.
Once you spot warning signs, you should get away for exactly one hour and leave the situation before things build up and you are violent.
Calm yourself down. Walk, take some exercise, meditate or pray – or it may help to talk to a friend who is supporting you in being non abusive.
Examine your behaviour. Think about your behaviour and any negative thoughts that you were having. Think about alternatives to your behaviour and what you are going to do or say when you get back to your partner. Remember you will need to be able to return and be different, rather than try to make your partner different.
After an hour return home. Before you return home, call your partner to let them know that you have calmed down and are returning. If your partner wants to discuss the situation with you, do so in a non abusive and non blaming way. Do not force someone to talk to you when you want, as that would also be abusive. Respect your partner's wish not to discuss the situation and wait for a mutually convenient opportunity.
Talk to your partner about Time Outs so that your partner knows ahead of time what strategy you are using to manage your violence.
I need to talk to someone
It is not normally possible for perpetrators of domestic abuse to solve all their problems themselves. Once you have identified that you have a problem, get help and support from one of these agencies who will be able to advise you what to do next, or direct you to a programme near you.
All of these agencies are confidential and have trained staff and volunteers who can listen to you, help your talk through your situation and work out what you want to do next.
Respect
Advice and information for men who are using violence in their relationships. Also has information about projects where you can go to get help to stop your violence and details of support services and programmes for perpetrators.
The Respect Phoneline offers information and advice to domestic violence perpetrators, their (ex)partners, friends and family and to frontline workers who come into contact with perpetrators in their work.
0845 122 8609 (same cost as a local call if 

you ring from a landline)

RNID typetalk – textphone users dial 18001 

0845 122 8609

Language line – If English is not your first 

language, call us and ask for an interpreter 

07624 818 326 (for text messages only)
The Samaritans
If you think you might benefit from confidential emotional support then the Samaritans are here for you. You do not have to be suicidal to contact them. The Samaritans will not judge you if you call. The Samaritans understand that sometimes it can feel difficult to pick up the telephone.
Can the NHS help?
The NHS is working to ensure that there is a good level of knowledge about domestic violence and the support that is available locally through community pharmacists, general practitioners, practice nurses, accident and emergency departments and other front line services. If you present at any of these services you should be helped to find the support you need. Conversations with healthcare professionals are confidential and the healthcare professional should ask you before they contact any services or support agencies. You may find that having the conversation in confidence with them may help you take the first step towards breaking the cycle of violence. 
We don't currently post comments online but are always keen to hear your feedback.
The Men's Health Forum need your support
It's tough for men to ask for help but if you don't ask when you need it, things generally only get worse. Especially during a major pandemic like Covid-19. So we're asking.
Men appear more likely to get Covid-19 and far, far more likely to die from it. The Men's Health Forum are working hard pushing for more action on this from government, from health professionals and from all of us. Why are men more affected and what can we do about it? We need the data. We need the research. We need the action. Currently we're the only UK charity doing this - please help us.
Here's our fund-raising page - please chip in if you can.