---
FAQs: Living with Covid-19
How can we reduce the impact of the coronavirus Covid-19? (Updated 20th January 2021)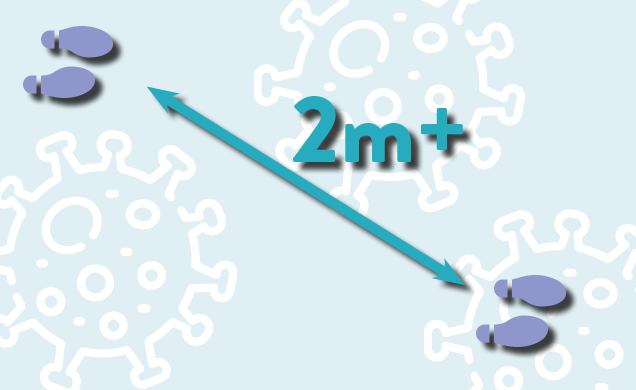 This page is about living with Covid-19. For more information on the virus itself including symptoms, tests etc, see FAQs Covid-19 (the virus). For more on the vaccine, see FAQs Covid-19 (the vaccine).
Currently the UK is essentially in a lockdown with the advice simply to stay home. However, you should check the precise guidance for individual countries.
Many councils have useful local information on their websites. With Scotland, Wales and Northern Ireland all following different paths, the UK government now effectively only speaks for England and, even in England, many councils see things differently. 
Can you make it simple?
That would be a great idea. What we see as the key messages are in the box below. 
The key messages about Covid-19 are very simple:
stay home and keep away from others - stay home if you can and if out keep at least 2m from others. This is 'social distancing'. (If you don't understand why social distancing applies to everyone, not just those at higher risk, read: Social distancing is about understanding risk). If 2m is not practical, 1m with other precautions (mask, plastic screens) is the suggested compromise. You should wear a mask where required but should still social distance as far as possible.
be air-aware - the highest risk is indoors. Risk increases with time and with the number of people you come in contact with. Open windows, stay as far away from others as possible - even in another room. Talking can spread droplets far and wide.
wash your hands regularly and well and follow government hygiene guidance. (There is an online joke suggesting washing your hands as well as if you've just chopped chillis and now want to masturbate. That is actually good advice.) 
You can check the following for more specific advice for your country:
Is that it?
Pretty much, if you can actually do it. It's not always easy but as cases rage in the UK, it's important to follow the guidance.
Just remind me: what is Covid-19?
It is a type of coronavirus that was first detected in China at the end of 2019. Most of us don't have immunity to it yet (and we don't know how long any immunity lasts anyway).
Some coronoviruses are mild; some like SARS in 2002 are more serious. This is one of the more dangerous - worldwide nearly two million people have officially died of Covid-19 and the real total is probably far more. The number of cases around the world is increasing. Numbers of cases and deaths tend to fall when a 'lockdown' is introduced and rise again once it is lifted. The UK government hopes that the latest lockdown will do this in the UK.
For more on the virus see: FAQs Covid-19 (the virus)
Sounds very serious.
It is. Along with Italy, the UK (population: 68 million) has more deaths from Covid-19 than any country in Europe. The only countries in the world with more deaths are far larger countries: the USA (pop: 331 million), Brazil (213 million), India (1380 million) and Mexico (128 million). This means that when it comes to the death rate (deaths per head of population), the UK has one of the worst records in the world. After a reduction over the summer, cases of Covid-19 (and deaths) are increasing.
This island has never seen anything like this in peace-time and many other countries are going or have gone even further to reduce contact between people. This would not be happening if the threat posed by this new virus was not very high indeed. The objective is to avoid high risk individuals coming into contact with a potential killer. It's not about us as individuals. You may think you're fine but you could well pass it on.
Remember too that there is evidence that even if you have had the virus, you can still catch it again. (See: FAQs Covid-19 (the virus))
How do I avoid Covid-19?
The main thing is to avoid getting the water droplets carrying the virus onto your face. Larger droplets fall to ground or nearby surfaces but smaller ones can be blown around on the air for some time and over some distance.
All of the following are designed to stop this from happening:
Keep at least 2m away from others - if you're in a space where this might be difficult, consider a one metre distance plus a face covering (mask, bandana, burkha, whatever). More below.
Wash your hands for 20 seconds with soap. Do this often, especially when you get home or to work. Only touch your face with clean hands.
Clean hands with alcohol-based sanitiser gel (60-80% alcohol preferably) if there's no soap and water
Cough or sneeze into a tissue (and bin it immediately). If there's no alternative, use your sleeve (but remember viruses can live for days on clothing). Wash hands as soon as you can.
Avoid touching door handles, switches etc - use gloves, extend your sleeve or use your foot, hip, elbow or parts of your hand you're unlikely to touch to your face (eg. your knuckle or closed fist)
The highest risk is indoors. This increases with time and with the number of people you come in contact with so avoid crowds and long times spent in poorly-ventilated environments.
Under the current lockdown in the UK, the instruction is once again to stay at home except in very specific circumstances. 
Don't try to game the guidance. The first question you should ask yourself is not will it be safe to get in a decorator or go to the supermarket or get a coffee but do I need to get in a decorator, go to the supermarket or get a coffee. Only if you have no choice about a particular activity should you be asking yourself how to make it as safe as possible.
What's the new variant?
Viruses mutate. There is evidence of new strains which appear to be easier to catch. (We don't think they're more deadly.) One of these was first identified in the UK. It may be part of the explanation for the most recent increase in cases. 
Ok, so what are the rules this time?
Sometimes the advice has been unclear. We can't say that at the moment. Right now, you must stay at home.
You can go out to:
shop for basic necessities, for you or a vulnerable person
go to work, or provide voluntary or charitable services, if you cannot reasonably do so from home
exercise with your household (or support bubble) or one other person (once per day and not outside your local area).
meet your support bubble or childcare bubble where necessary, but only if you are legally permitted to form one
seek medical assistance or avoid injury, illness or risk of harm (including domestic abuse)
attend education or childcare - for those eligible
Work at home if you can and avoid unnecessary contact with others. If you are out, social distance. That means keep at least 2m apart (or, in an enclosed space where 2m is not possible, 1m with other measures such as a mask). Make sure you know when and where you are expected to wear a face mask and do so (for example, on public transport or in a shop).
There's more on staying at home without going mad on this website and the offical guidance on what you can and can't do in England on the government website.
In terms of seeing people, what can I do?
For the moment, you can't other than in very specific circumstances. You will need to check national and local websites as suggested.
There's more on the UK government's line on social distancing here.
What's a support bubble?
Single adult households can team up with another household to form a 'support bubble'. (A single adult household is an adult living alone or alone with children under 18.)
In a 'support bubble' there's no need to social distance. You can enter each others' homes and stay overnight. This means, for example, that a lone grandparent can join a family group. You can only form one 'support bubble'.
If anyone in a 'support bubble' shows symptoms of the virus or is contacted via the NHS test and trace programme, then everyone in the 'support bubble' must follow the guidance on isolation etc.
Which places are open?
Very few. In a nutshell, only essential shops, schools for vulnerable children and children key workers and some preschool settings are open.
When will things change?
Not before mid February 2021. Months ago, the government set five tests for easing the first lockdown:
that the NHS could cope
a sustained and consistent fall in the death rate
new infections decreasing to a 'manageable' rate
having enough testing and personal protective equipement (PPE) and meeting other 'operational challenges'
no risk of a second wave overwhelming the NHS
During the summer, some of these criteria were being met but now few if any are. Testing is breaking down and the infections are at a rate that is difficult to manage. This puts the NHS at genuine risk heading into winter. Yes, the vaccine is coming but not yet. 
The UK's rate of infection (called the R number) is above 1 (1.1-1.3 on 23 Dec). It never really got below 1 following the partial lockdown in November 2020. When the number is over 1 (meaning that one person with the virus infects more than one other), infection takes off and cases start increasing rapidly.
Is it safe to go back to work?
Not really. You should work at home if you can.
The government has issued guidance to employers about how to make workplaces safer. Employers should consult with their employees to determine how to work safely. If you're asked to go to work but you don't think it's safe to work, talk to your trade union if you can. There's also information on the TUC website including their answer to the question: Can I refuse to work because of coronavirus?
Stay at home if you're ill. (The 111 online Coronavirus service will tell you how to get an isolation note for work.) But best discuss things with your workplace. They should be developing policy on:
pay
what to do if you're ill and 
implementing the government guidance at work
Those who work in businesses and workplaces which can open are being encouraged to go back to work and ideally to do that by walking or cycling rather than taking public transport. (For people who have no alternative but to use public transport, the government has published guidance.)
Is it safe to go on holiday or travel abroad?
Right now, no. And in most cases it will be illegal.
The UK is constantly updating its travel and quanrantine guidance. The Foreign Office website includes the latest advice. 
For European travel, there is a useful EU site on what is going on in EU countries called Reopen Europe.
Why 2m social distance?
Because it reduces the risk by about 90%. Read: Social distancing - 2m is twice as good as 1m. But there is no 2 metre rule - stay as far away as far as possble. Droplets can travel some distance and hang around in the air for some time especially indoors. Talking can spread droplets as much if not more than coughing.
What about wearing a mask?
In confined spaces where social distancing of 2m is difficult, wear a face-covering or mask. In general, those over the age of 11 must wear a mask on public transport and in shops but check local rules. More on masks and how to make them. 
When wearing a mask, make sure you know how to use it. Some people say that wearing a mask prevents them from touching their face and reminds them not to do it. A scarf, balaclava, bandana, burkha or similar could do that job as well as a mask.
The highest risk is indoors. This increases with time and with the number of people you come in contact with. Don't hang about indoors. If you must spend time indoors with people outside your bubble or household, keep it as ventilated as possible. Open windows, doors, vents, fans etc.
The key point is: wearing a mask is not an alternative to staying 2m apart. You must always stay 2m apart if it is possible.
What about the vaccine?
Yes, there are a number that are now becoming available. We have full FAQs on the vaccine here. 
What is self-isolation?
The aim of self-isolation is to keep you away from others so that if you do have it, you don't pass it on. It involves staying at home as separate as possible from others. Ideally, stay in your room. Use the bathroom after everyone else in your household and then clean it. Don't share towels, utensils etc. Get delivered items left outside. The NHS has useful advice for those staying at home and there's more on this site.
I'm a carer.
Carers UK have published some useful guidance.
How do I find out more about Covid-19?
You can check the following for more specific advice for your country:
For health information, check your country's NHS site.
Date published 09/03/20
Date of last review 20/01/21
Date of next review 25/01/21

References
The Men's Health Forum need your support
It's tough for men to ask for help but if you don't ask when you need it, things generally only get worse. Especially during a major pandemic like Covid-19. So we're asking.
Men appear more likely to get Covid-19 and far, far more likely to die from it. The Men's Health Forum are working hard pushing for more action on this from government, from health professionals and from all of us. Why are men more affected and what can we do about it? We need the data. We need the research. We need the action. Currently we're the only UK charity doing this - please help us.
Here's our fund-raising page - please chip in if you can.