---
Heart health FAQs
How to be good to your ticker. And how to find out your 'heart age'.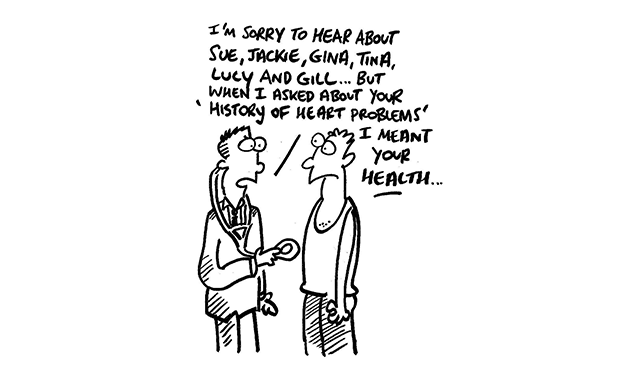 Tune your engine by using the right fuels. The heart needs: 
Heart disease is caused when the arteries that pump your blood get damaged with gunk called plaque. This makes the arteries harden and narrow. The main causes are:
high blood pressure
high cholesterol
lack of exercise
being overweight
family history.
Know your history
You can get a good idea of the hand you've been dealt by knowing your history. 
Many health problems run in families: heart disease, cancer, strokes, depression, mental health challenges.  Find out if your parents, grandparents, aunts and uncles have had any of these illnesses, especially if they died young. 
Make sure your GP knows your family health history.
Check your heart age
Get a check-up
Meanwhile, get your blood pressure and cholesterol levels checked. If you're over 40 and live in England, ask your GP practice for a free NHS Health Check which will estimate your risk of getting heart disease.
Here's a little incentive to look after your heart: everything that is good for your heart is good for your penis. Clear, unblocked arteries mean firm, durable erections. Click for more on erection problems (an early warning sign for heart disease).
We don't currently post comments online but are always keen to hear your feedback.
This content is wholly based on the Men's Health Forum's The Man Manual which was prepared in line with the NHS England Information Standard of which the MHF is a member. Follow the links for more information or to buy copies. The exception is the Heart Age widget which includes its own credits.
Date published 19/06/15
Date of last review 30/04/15
Date of next review 30/04/18

The Men's Health Forum need your support
It's tough for men to ask for help but if you don't ask when you need it, things generally only get worse. Especially during a major pandemic like Covid-19. So we're asking.
Men appear more likely to get Covid-19 and far, far more likely to die from it. The Men's Health Forum are working hard pushing for more action on this from government, from health professionals and from all of us. Why are men more affected and what can we do about it? We need the data. We need the research. We need the action. Currently we're the only UK charity doing this - please help us.
Here's our fund-raising page - please chip in if you can.