David Wilkins, from the Men's Health Forum, introduced the report Men and Cancer: Saving Lives. He explained the possible reasons why men have higher cancer rates than women. He said that this was, due to lifestyle issues, lack of symptom awareness, and lack of use of services. He also spoke about how we can reduce the incidence in men. 
David spoke about developing male specific interventions to tackle the link being male and having a poorer lifestyle. He said that he wouldMen and Cancer: Saving Lives coevr concentrate particularly on men of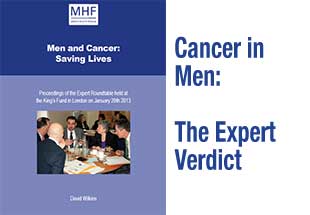 lower economic status. Interventions in deprived areas in general are key. He stressed that there needs to be more male specific symptom awareness campaigns.
 
The joint chairs, John Baron MP and Professor Lord Patel of Bradford, introduced Amanda Boughey from Cancer Research UK who evaluated the Be Clear on Cancer campaign and Yvonne Ridley from Public Health England. Yvonne Ridley spoke about the 5,000 avoidable deaths that early diagnosis could prevent. She argued that giving men the permission to see the GP is critical as this can often be a barrier that prevents them getting the early diagnosis that is critical.
 
Amanda looked at the kidney and bladder cancers campaign. The 'Blood in Pee' campaign was a concise campaign which told men that if they see blood when they pee, they need to see the doctor. This was launched in a football grounds' urinals using a heat sensitive poster. Amanda said that the campaigns did get a lot of media coverage from range of media outlets which led to rise in Kidney and Bowel cancer screenings. 700 additional men being diagnosed - 400 of them were in the treatable early stages.
 
Amanda said that they believed that the reason why the campaign worked, was because of the language and visual cues, directive nature, the marketing environments and it that was precise and to the point with hard hitting slogan.
 
Find more on Men and Cancer: Saving Lives.
See the presentation David Wilkins used at the meeting.