What's your risk of type 2 diabetes?
For World Health Day (Thursday, April 7), Diabetes UK is calling on men of all ages to find out their risk of Type 2 diabetes.
It's easy to do online and takes just a few minutes – but currently women are 38% more likely to use the Diabetes UK Know Your Risk online tool than men even though men are at greater risk of Type 2 diabetes. 
The Hammers - West Ham United – are joining forces with the charity to hammer home the message: use the online tool It's a simple questionnaire developed by Diabetes UK, the University of Leicester and the University Hospital of Leicester NHS Trust that will pin down your risk precisely and tell you what to do about it.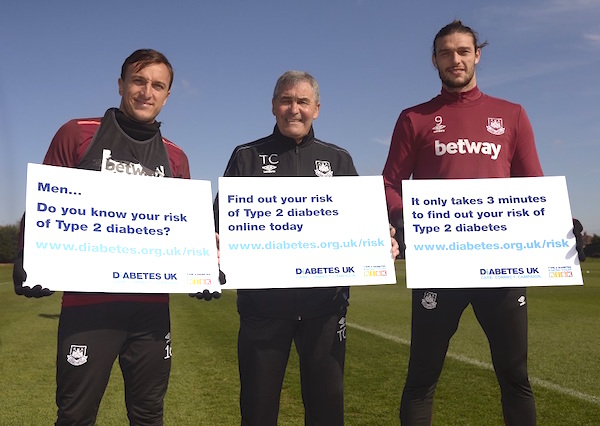 West Ham coach Tony Carr MBE, who is pictured above between captain Mark Noble and striker Andy Carroll was diagnosed with Type 2 diabetes 11 years ago and is keen to raise awareness.
He says: 'I had been losing weight and feeling terrible. I didn't have a clue what diabetes was. Since then, I've really worked hard to take care of myself, eat well and stay active. To hear that Diabetes UK has already had one million visits to its Know Your Risk of Type 2 diabetes tool is really encouraging. I can't recommend enough that people go online and check their own risk.'
Helen Dickens, Head of Prevention at Diabetes UK, said: 'A staggering 11.9 million people in the UK are now at increased risk of developing Type 2 diabetes. However the good news is that when an individual knows they are at increased risk they hold the power to turn this around by making relatively simple lifestyle changes.'