---
Brian: 'Don't leave it too late to act on weight'
Brian is in his 60s. He has type 2 diabetes.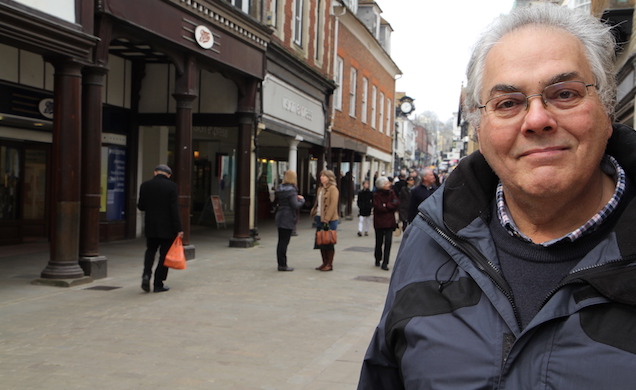 I was diagnosed at 50. I've always been overweight, even as a child. I noticed that I was drinking a lot of water. That was the trigger. The GP did a urine test there and then. 
Now I have three medicines: metformin twice a day, pioglitazone and gliclazide. I recently had an HbA1c test and my blood sugar is still highish. It's better when I'm losing weight but I haven't got the willpower to do that by diet alone. I know everything about diet except how to do it. Portion control is the main thing for me. 
Work used to be just about everything to me. I was going to a lot of formal functions with fatty food and drink and I was overdoing it. Things improved when I went to working three days a week. At the same time, if I wasn't on the council or volunteering, I'd be less of me. It's about balance. 
I took up the gym four years ago and should have done it ages ago. I also run but I'm a bit of a fair-weather runner and don't like the cold and rain. 
I do wonder if diabetes was a factor in my stroke four and a half years ago. It has certainly caused erection problems and made it more difficult to get health insurance.
My advice would be not to leave it too late to take notice of your weight. It gets harder as you get older. Type 2 can be put into reverse and it's much easier to lose weight at 45 than 65.
After reading his interview when we first published it in Diabetes For Men, Brian decided to take further action. He has now joined a weight-watching programme and has begun to lose weight.
This article reflects the experience of the individual. It is not health information from the Men's Health Forum under the terms of the NHS England Information Standard.
The Men's Health Forum need your support
It's tough for men to ask for help but if you don't ask when you need it, things generally only get worse. Especially during a major pandemic like Covid-19. So we're asking.
Men appear more likely to get Covid-19 and far, far more likely to die from it. The Men's Health Forum are working hard pushing for more action on this from government, from health professionals and from all of us. Why are men more affected and what can we do about it? We need the data. We need the research. We need the action. Currently we're the only UK charity doing this - please help us.
Here's our fund-raising page - please chip in if you can.