Read the introduction first to understand these practice tips
Key lessons
1.    Policies and services to prevent and treat obesity should take account of sex and gender-related differences. Service providers aiming to improve male uptake should consult men in the development and evaluation of services. 
2.    Weight reduction for men is best achieved and maintained with the combination of three components:
A reducing diet
Advice on, or provision of, physical activity
Behaviour change techniques
These key components differ from those for women in that men prefer more factual information on how to lose weight and more emphasis on physical activity. 
3.    For some men, but not all, the opportunity to attend men-only groups may enhance effectiveness. Group-based interventions should also provide some individual tailoring and individual feedback to male participants. 
4.    Weight loss programmes for men may be better provided in social settings, such as sports clubs and workplaces, which may be more successful at engaging men than NHS settings. Unfortunately, there is little evidence about what works for men in harder-to-reach groups so new ideas will be needed to encourage these men into programmes.
Useful findings for those planning interventions
Intervention design
Men do better where weight loss programmes also include physical activity (i.e. as opposed to programmes that concentrate solely on dietary changes). 
Not only do men seem to do better in programmes of the kind described above but they are more likely to join such programmes.
Men expressed a dislike of "strict" diets (see also first point above). It should be noted however that – of the two approaches - reducing diets are more effective than physical activity in achieving reductions in weight. 
Intermittent periods of dieting, as required, may be more effective for men than regular periods of dieting.
The inclusion of behaviour-change training improves long term weight loss outcomes for men (for example: self-monitoring, goal-setting, provision of feedback by those running the programme).
Men particularly enjoy the use of pedometers to monitor their physical activity. Although this was not evidenced by the review, it seems probable that other types of "gadget" may also encourage male participation.
Men largely welcome the use of humour in intervention design or delivery but they do not appreciate humour that trivialises men's health concerns or humour that is used insensitively.
Men prefer interventions that are individualised, fact-based, flexible, use business-like language, and include simple to understand information. 
Men are less likely than women to do well using the drug Orlistat to help long-term weight loss maintenance.
Encouraging and maintaining participation by men
Men are significantly less likely than women to join weight-loss programmes but once recruited they are less likely than women to drop out.
Middle-aged men in particular, are more motivated to lose weight once they become aware that they had a problem with their health - for example being diagnosed as "obese" by a health professional. 
Understanding the health benefits of losing weight can act as a motivator for men - for example knowing that weight loss may prevent the development of Type 2 diabetes or that weight reduction may improve erectile function.
The desire to improve personal appearance is also a motivator although men may be wary of looking "too thin".
Being "self-accountable" and/or having to account for food choices to others within the programme facilitates adherence.
Settings for interventions
Men may be initially more resistant to group-based interventions but group-based approaches are successful in facilitating peer or social support among people with similar health problems. 
Individually tailored advice or counselling assists weight loss for some men.
Some men prefer men-only group settings while others regard this as unimportant or actively prefer mixed-sex groups. At the moment it is not clear how to identify which men prefer which type of settings other than by asking individuals.
On the whole, men prefer group-based programmes that offer regular evening meetings at fixed times. 
For those men who have a strong sense of belonging to a local sporting organisation (e.g. football supporters), an association between that organisation and the programme can be instrumental in engaging men.
By contrast with women, men seem to favour programmes delivered by the NHS (i.e. rather than by commercial companies). Evidence suggests however, that commercial programmes are effective in helping men to lose weight during the lifetime of the programme (comparative effectiveness of NHS and commercial programmes for long-term weight loss is unclear). 
There may be an optimum number of weight loss sessions as far as men are concerned. "Too many" sessions may be counterproductive.
Most studies do not report the sex of the person delivering the intervention, so there is no evidence whether men have a preference in relation to the sex of the programme leader.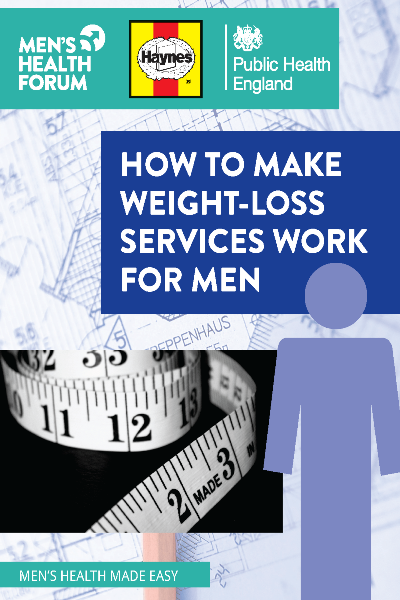 ---
This page is based on the Men's Health Forum's 'How to make weight-loss services work for men'. Supported by Public Health England, this is first best practice guide to show how to adapt and run weight-loss programmes so they appeal to and are effective for men.
Download How to make weight-loss services work for men
Developing the best practice tips and guide is part of the Men's Health Forum's work as a strategic partner of the Department of Health, NHS England and Public Health England.
The Aberdeen review project on which the How To guide is based was funded by the NIHR Health Technology Assessment programme (project number 09/127/01) and will be published in full in the journal Health Technology Assessment in late spring 2014. See the HTA programme website for details. The views and opinions expressed therein are those of the authors and do not necessarily reflect those of the Department of Health.